Vice Provost Gary Wood Ph.D.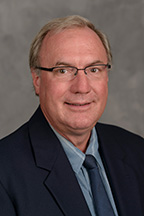 Dr. Gary Wood was hired as the Associate Provost in August 2014. Prior to his new role, Dr. Wood served as Chair of the Department of Chemistry since 1998 in the College of Natural and Health Sciences and also served as Secretary of the Faculty since 2009.
Dr. Wood holds a Ph.D. in Biochemistry from the University of Wisconsin-Madison. He is the recipient of numerous awards, including the UW System Regents Teaching Excellence Award in 1992, the UW- Parkside Stella C. Gray Teaching Excellence Award in 2006, and the UW-Parkside Faculty Distinguished Service Award in 2014.
In his role as Vice Provost for Academic Affairs, Dr. Wood works with the Provost and Vice Chancellor for Academic and Student Affairs and provides leadership for the following departments:
General Education
Research Administration
Assessment and Accreditation
Teaching and Learning Center
Distance Education / Innovations in Learning
Dr. Wood is also involved in the UW-Parkside Honors Program along with advancing the UW-Parkside Student Success initiatives.
Gary Wood, Ph.D.
Vice Provost for Academic Affairs
gary.wood@uwp.edu
262-595-2364
Julie Lee
University Executive Staff Assistant
julie.lee@uwp.edu
262-595-2261