College of arts & humanities
We are an inclusive community of passionate learners who question, discover, and create the world of today and tomorrow. Through the mastery of cutting-edge technologies and a deep appreciation of creative expression and humanistic traditions, you'll find what you need to create a clear path to a meaningful career and life-long civic and cultural engagement.
The College of Arts and Humanities offers undergraduate majors in art, communication, English, graphic design, liberal studies, music, Spanish, and theatre arts, and a master's degree in professional communication. You can also bring focus to your studies with concentrations, minors, and certificates, such as digital media and production, film and cultural studies, art education, and digital design and fabrication.
The multi-disciplinary nature of the college allows for individual as well as collaborative educational initiatives. Each program provides theoretical foundations along with practical experience and skills. Graduates are prepared for careers, leadership, and citizenship in the fine arts, communication, and many other fields.
Key Learning Goals
Our graduates achieve successful lives and careers...

Our innovative 21st century interdisciplinary degrees in the arts and humanities, rooted in the liberal arts tradition, prepare our graduates to:
Apply knowledge and skills
Think imaginatively
Creatively express themselves
Communicate effectively
Solve real-world problems
Collaborate in a diverse society
Become engaged leaders
Succeed as global citizens
Realize rewarding personal lives
Achieve rewarding careers
Distinctive Features
Our beautiful campus is ideally located between Milwaukee and Chicago, providing students with easy and regular access to endless cultural opportunities and experiences
 
Learn and create in the new $37 million Rita Tallent Picken Regional Center for Arts and Humanities, a 200,000 square foot facility that includes:
 
Four flexible state-of-the-art theatres
Acoustically-perfect Bedford Concert Hall
Three expansive art galleries
24 new high-tech classrooms, studios, and rehearsal halls for the arts and humanities
Virtually unlimited access to the vast University of Wisconsin library and information services
 
Small class sizes offer students extensive personal attention and advising from faculty and the ability to work collaboratively on research and creative projects
 
100% of our faculty have achieved the highest level of degrees in their discipline and continue to actively engage in significant research and creative activity
 
Many highly-qualified working professionals from the region serve as lecturers and bring a wealth of practical expertise and experience to our classrooms and studios.
 
Excellent professional apprenticeship, internship, and job opportunities for students that provide "real world" career preparation experiences that prepare them for successful careers and rewarding lives.
 
Frequent "study away" trips to cultural centers in America (Chicago, Milwaukee, New York City) and internationally (including England, Central America, China, India, Italy, Germany).
 
Many renewable scholarship and financial aid programs for students majoring in arts and humanities programs, which help to make college very affordable at UW-Parkside.
 
Outstanding career-placement rates for graduates -- with over 90% of our graduates successfully finding rewarding careers in a variety of professions where they actively use their skills and talents gained in the arts and humanities.
Scholarships
UW-Parkside Foundation Scholarships include:
$1,500/ renewable up to four years
Open to all newly admitted students pursuing art and humanities majors:  
Art
Communication
English
Graphic Design
Liberal Studies
Spanish
Music
Theatre Arts 
Joseph Johnson/ Snap-on Scholarship - up to $3,646
Criteria:  
Child or grandchild of current employees of Snap-on, Inc., or its subsidiaries, or of a Snap-on Tools franchisee or independent dealer   
Full-time UW-Parkside student   
Minimum grade point average of 3.0   
Minimum ACT of 22   
Demonstrated leadership and participation in school/community activities 
KABA Catalyst2Careers Scholarship - half in-state tuition
Criteria:
Graduate from Kenosha County high school
Minimum grade point average of 2.8
Minimum ACT of 23
Math, Science, Technology, Medicine, Engineering or Business major
Three awarded each year
Mary Louise and Henry Link Arts and Humanities Scholarship
Criteria:
Must be a declared major in the College of Arts and Humanities.
Have successfully completed at least sixty (60) credits (the equivalent to two full years of full-time) college-level work at UW-Parkside or another accredited college or university.
Have at least a 2.75 grade point average at the time of first application; have at least a 3.25 grade point average to reapply for a second year of funding.
Have resided in Kenosha County when completing high school (or the equivalent).
Have demonstrated financial need.  

Apply for the Link scholarship.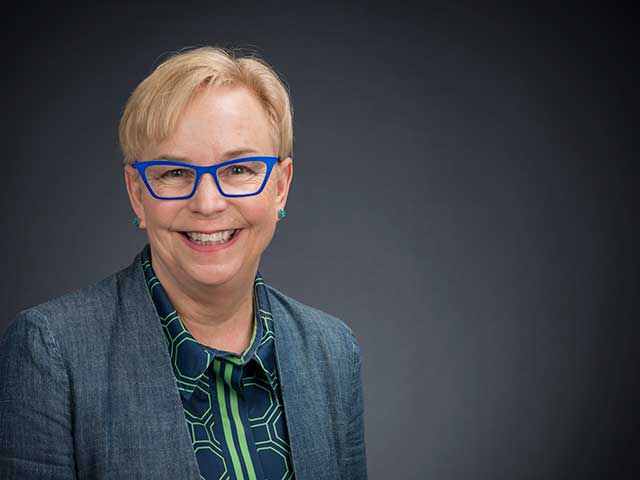 Lesley H. Walker, Ph.D. 
Dean, College of Arts and Humanities
Professor of Modern Languages
We invite our students to join us on a journey to explore, understand, and appreciate the beauty and complexity of human experience and expression. We teach critical thinking, teamwork, effective oral and written communication, and creative problem solving. Through training in the arts and humanities, students develop skills and talents that offer clear pathways to meaningful careers, civic engagement, and enriched lives.
We also invite the community of Southeastern Wisconsin to embark with us on amazing artistic and cultural adventures that take place at the Rita Tallent Picken Regional Center for the Arts and Humanities, fondly known as the Rita. Any given night, citizens of our community can hear a world-class jazz concert; attend an inventive interpretation of a classical play put on by our award-winning Theater Arts students; or view a cutting-edge artistic installation in our Fine Arts Gallery. Opportunities to participate in the "life expressive" abound and are not to be missed!
If you have any questions about the College of Arts and Humanities at Parkside, feel free to contact me at 262-595-2188 or at lwalker@uwp.edu. I would be happy to discuss the diverse opportunities that exist for you here at Parkside. Let's "live.do.create." together!
Students create and innovate in enviable spaces.
The Rita
Since 1968, the University of Wisconsin-Parkside has continued to build a reputation as an outstanding liberal arts institution with particularly strong fine arts programs. With The Rita Tallent Picken Center for Arts & Humanities, our state-of-the-art instructional facilities and stunning performance venues match our award-winning academic programs and provide even greater community access.
Digital Design & Fabrication Lab
Our new certificate program teaches students how to design and make things, using computer-aided software, 3D printers, and state-of-the-art CNC machinery—laser cutter, vinyl cutter, polymer kiln, embroidery machine. We have intentionally created alignment between art and industry to offer our students the opportunity to train for a digitally complex world. Our certificate program will prepare UW-Parkside students to use with fluency these tools as creatives, artists, technicians, and entrepreneurs.
Ranger Production Studio
Our newest studio space boasts a multi-camera—3 to 5 DSRLs—setup that allows for either video recording or live-streaming. The space is highly configurable. The cameras can be operated either by hand or digitally through advanced switching technology. The attendant acoustical and lighting support is likewise state-of-the-art. The Ranger Production Studio supports student learning, particularly those in the Digital Media and Production minor or certificate programs.
Graphic Design Labs
Our newly renovated graphic design spaces afford students access to high-powered computing and software in an urban, studio-like setting. Critique and collaboration are facilitated by an open floor plan, cork walls, and promethean screens. A production studio is attached, allowing for easy printing, assemblages, and CNC laser cutting.
Theatre Design Labs
An intimate space that supports both hands-on set design through model building as well as computer modeling of scenic decor. Promethean boards make demonstrations easy and beautiful. Would-be set designers take inspiration from the models of earlier production displayed on high shelves in the lab. 
Art Studios and Galleries
Our fine arts facilities are state-of-the-art. Each artistic discipline that we teach has its own dedicated studio—ceramics, sculpture, painting, drawing, and print making.  Our CNC milling machine and plasma cutter reside in the sculpture studio
Learn more about the Art program.
There are two art galleries—the Mathis Gallery and the Foundation Gallery.  The Mathis Gallery is big enough to host large juried exhibitions, while the Foundation Gallery creates a more intimate atmosphere, ideal for solo or small group shows. The gallery programming itself is educationally-driven with thematically-focused exhibitions from local, regional, and national artists.
There is always something happening in the arts and humanities.
Being engaged in our professions and in our communities is our passion.