Outstanding Graduates December 2021
Published: December 18, 2021
By:

UW-Parkside Marketing & Communications
Chancellor's Award
 
Jessica Baker - Geosciences & Theatre Arts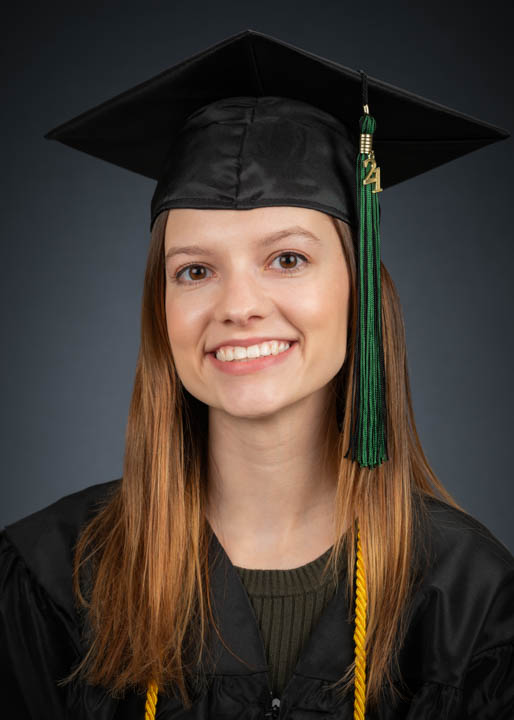 Jessica Baker is a dual degree recipient with a B.A. in Theatre Arts and a B.S. in Geosciences. She has maintained an exceptionally high GPA. Her success in the Geosciences program helped her obtain an internship at the Wyoming Dinosaur Center. She worked as a tour guide for a dinosaur dig and taught people proper digging technique.
Baker received the Summer Research Fellowship from UW-Parkside in 2020 and 2021, which resulted in her co-authoring two papers and two manuscripts. She was a research assistant for a project funded by WiSys to study the fluorescence enhancement with clay minerals and polymers. Baker has also been an active member of the Geosciences Club.
As an actor, Baker has appeared in Midnight and Moll Flanders and backstage, Baker is a Kennedy Center American College Theatre Festival, Region 3 award winning lighting designer. She won the Theatrical Design Excellence award twice for her designs for The War of the Worlds and Romeo and Juliet.
Baker has served as production electrician on several Parkside Theatre productions, the KYPAC summer theatre program, and with the Fireside Dinner Theatre. She was awarded an internship with the Eugene O'Neil Center and has completed professional internships with Great River Shakespeare Festival and the Shakespeare Project of Chicago.

Congratulations, Jessica!
---
Outstanding Graduates – alphabetical order 
 
Karra Albeck - Sociology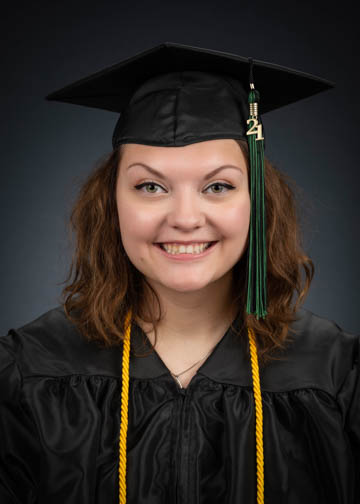 Karra Albeck is graduating with a major in sociology and minor in psychology. Her academic record is impeccable. She has an excellent cumulative GPA and has been on Dean's and Provost's lists every semester at UW-Parkside. She also earned the Diversity and Inclusion certificate and the Child and Family Advocacy certificate. In addition, she has completed several training programs including the Research, Ethics, and Compliance Training, Mandated Reporter Training, Campus Security Training and CPR and First Aid Certified for infants, children, and adults. After graduation, she plans to pursue her master's degree in clinical mental health counseling.
She has demonstrated leadership capability in all her courses by leading discussions and group projects. Currently, she is taking the lead on conducting the evaluation project for the YWCA SEW program in Racine. She has been working at a daycare in Kenosha for the past two years and has been promoted twice and currently works as an assistant director there.
Albeck also has an outstanding record of service and extra-curriculum activities. She volunteered at Cops "N" Kids in Racine for a CBL course and is currently working on a project for the new Racine juvenile detention center in a CBL course.

Congratulations, Karra!
---
Nolan Atkinson - Economics & Business Management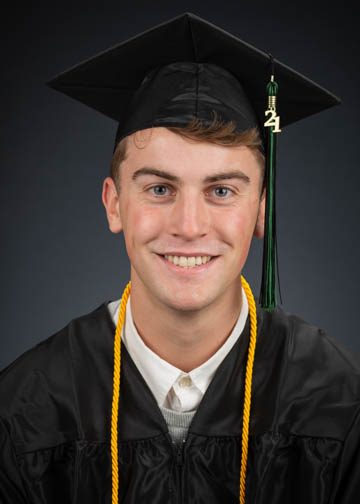 Nolan Atkinson is graduating with a major in Economics with the Monetary and Financial Economics concentration (MFEC) and a major in Business Management with a Finance concentration. Atkinson's academic work has been outstanding, earning both a high economics and cumulative GPA. Atkinson has effectively applied his economic knowledge in the internships that he has had at a CPA firm, the Milwaukee Admirals, and Northwestern Mutual. He has worked as a College Financial Representative at Northwestern Mutual since December of 2020. He is the longest serving intern in their CFR program.
Atkinson is a member of the Academic Honor Society, Beta Gamma Sigma, as well as the Economics Club and has been awarded the Alice M. Hamele Memorial Scholarship in Economics. He has also been recognized on the Provost's List for all semesters enrolled at UW-Parkside. Atkinson also serves as a WIAA Licensed Soccer Official and as an Athletics and Activities Supervisor at Franklin High School. He has also been involved in a number of community-based projects, including the Racine Kenosha Community Action Agency where he served food to the guests and as a volunteer at Blessing in a Backpack where he filled backpacks with food that would be donated.

Congratulations, Nolan!
---
Kara Breidenbach - English & Secondary Education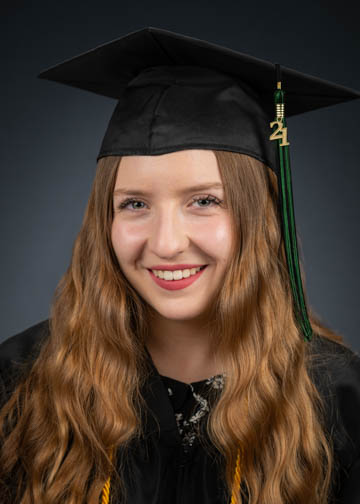 Kara Breidenbach is graduating with majors in English and secondary education, with a minor in ESL. She is a first-generation college student and, after completing her teaching residency, will be certified in Wisconsin as an English Language Arts 6-12th grade and ESL 6-12th grade instructor. When the pandemic began, Breidenbach was volunteering at St. Edward's Child Development Center and helped to improvise lessons to keep the children on track. She also provided emotional support and guided playtime. Once RUSD got iPads and laptops, she continued to help students transition into online learning.
Breidenbach has achieved a nearly perfect GPA and has also been an engaged member of the Parkside community. She was the secretary of the English Honor Society, Sigma Tau Delta, and wasan editor for the Ranger News. She also served as an Orientation Leader and a Campus Ambassador. Breidenbach was promoted to senior Campus Ambassador and helped manage the student staff team. She also worked with the admissions team and marketing department to create promotional materials and served on the Search and Screen Committee for the College Navigator position. She was employed as an event specialist and worked at the Racine Zoo in guest services.

Congratulations, Kara!
---
Darnell Clay - Master of Science in Sport Management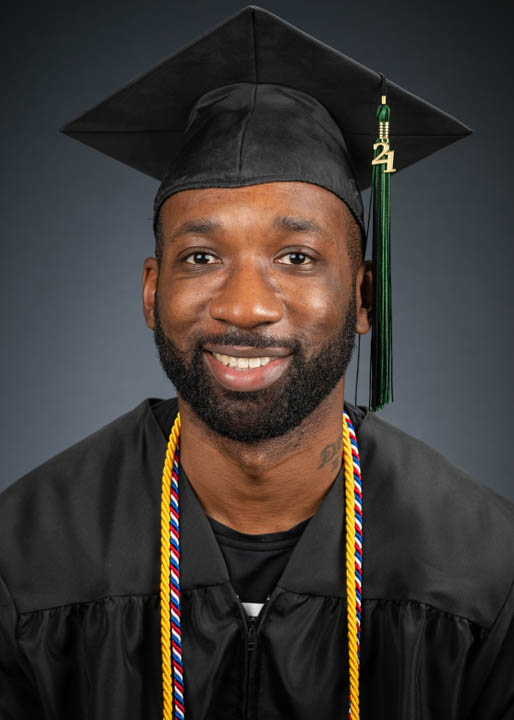 Darnell Clay is graduating with a Master of Science in Sport Management. He also earned his Bachelor of Science Degree in Sport Management from UW-Parkside and was named to the Dean's or Provost's List every semester. Clay served as the Associate Editor of Straylight Magazine. He is a veteran of the United States Army.
In his current job at Bryant & Stratton College, he serves as an Academic Athletic Advisor for approximately 160 students and attends sporting events, conducts interviews, and writes stories for the school's website.
Clay formed 847 Elite Lacrosse, which provides children the opportunity to learn and play lacrosse. He is also establishing the National Lacrosse Association, a professional lacrosse league scheduled to start play in 2022.
Clay has served as an Assistant Basketball Coach at Killeen High School, was a member of the Sport Management Club, a volunteer Group Leader at the Boys and Girls Club, and served as a JROTC instructor. He also works part-time as a Scout and Digital Content Editor for Prep Red Zone, a website dedicated to football recruiting. Clay has also served as a volunteer Positions Coach for North Chicago High School football.
Congratulations, Darnell!
---
Claudia Crane - Economics & Mathematics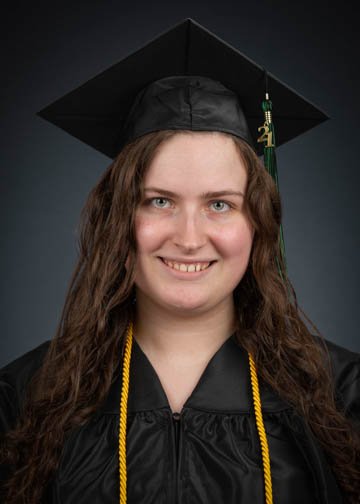 Claudia Crane is graduating with a major in Economics with the Quantitative Economics concentration and a major in Mathematics with the Applied Mathematics option. Crane's academic work has been exceptional. Her stellar economics and cumulative GPA's clearly demonstrates that she is intelligent, hard-working, well-disciplined, and highly motivated.
Crane's ability to grasp complex economic models and theories and then apply them to analyze and understand real world economic decision-making and phenomena is particularly impressive. She has effectively applied the quantitative and analytical tools in her economic toolbox to her job at Meijer, where she was in charge of the pricing for the entire grocery department. Crane has combined her exceptional command of math and economics thinking with her excellent communication skills and friendly demeanor to become a very effective and sought-after economics and math tutor for the Parkside Academic Resource Center. Being the first one to attend college in her family enables her to really understand and connect with the students she is tutoring. Crane is an exemplary student and possesses a genuine love for learning. She sets high goals and achieves them through hard work, perseverance, intelligence, and efficient time management.

Congratulations, Claudia!
---
Brian Finlayson - Economics & Business Management
Brian Finlayson expertly balances exceptional academic performance with a full-time military career, part-time business operation, and family life. Finlayson is a shining example of a nontraditional student getting the most from their UW-Parkside experience. His team works with US Army Reserve on performance appraisal and managing employee relations during COVID. Finlayson has grasped every opportunity to extend his professionalism and military background to his interactions with his fellow students and the community partner. He actively shared his experiences while also learning of the perspectives and experiences of others.
Finlayson has been a valuable asset to the United States Army Reserve. Finlayson was selected as an Assistant Area Leader for the Eastern Wisconsin region. He trained over 400 soldiers in the tactics and operations of military combat vehicles. He was awarded the Bronze Star Medal and Army Commendation Medal. Finlayson has served as a foster parent to 13 children. He was also trained as a firefighter and first responder who has responded to over 1000 emergency calls in the communities. Finlayson owns and operates Integrity Maintenance & Repair, a company that serves the community. He has a passion for education and has decided to continue pursuing his MBA here at UW-Parkside.

Congratulations, Brian!
---
Kelly Keel - Sociology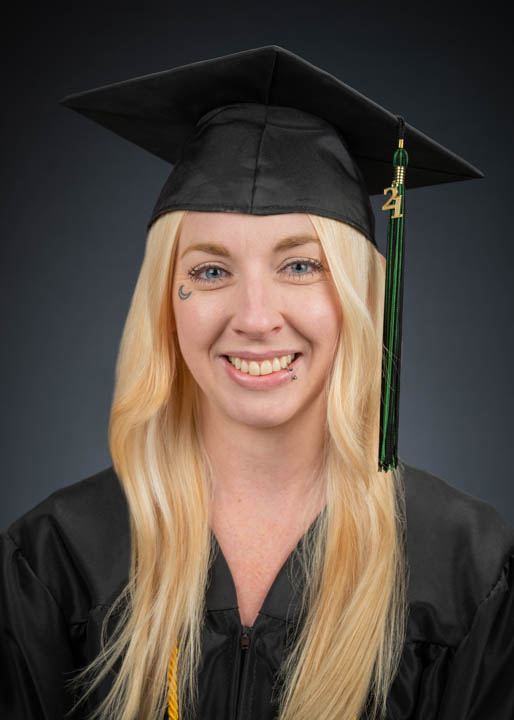 Kelly Keel is graduating with a major in sociology and has achieved a very high cumulative GPA. She has been on the Deans & Provosts' Lists every semester since starting at UW-Parkside. She has persevered through significant obstacles, is a non-traditional fully online student, and a mom to a teenage daughter. Keel has previously completed two associate's degrees; one in Applied Science in Funeral Service andanother in liberal arts. She is a licensed funeral director and embalmer.
She is completing a certificate in Gerontology with a Prior Learning Assessment (PLA portfolio) with Dr. Rosenberg in place of her practicum. She conducted a research project on end-of-life decisions and the sociological factors that influence them using her prior work-related experience as a funeral director and embalmer. This experience served as qualitative evidence to identify several major factors contributing to the environment people find themselves in when they are facing their own death or that of someone close to them.
She is the first person in the sociology online degree completion program to receive an outstanding graduate award. After graduation, her goal is to pursue a career with the Illinois Department of Children and Family services to help people who have survived childhood abuse.

Congratulations, Kelly!