Outstanding Graduates May 2020
Published: May 7, 2020
By:

UW-Parkside Marketing & Communications
Chancellor's Award
 
Zachary Atkins – Communication and Psychology (Racine, WI)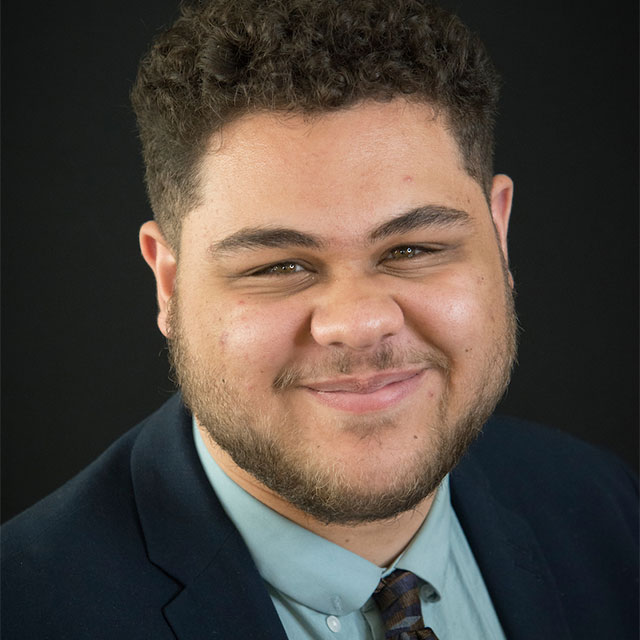 Zachary Atkins, a Racine native, is double-majoring in Communication and Psychology, minoring in Ethnic Studies, Organizational Communication, and Public Relations, and pursuing a certificate in Mental Health Skills. Zachary has been on the Dean's list every single semester out of the seven semesters he has completed up to this point, and has been on the Provost's list for six semesters. He is also the recipient of an Academic Achievement award. Zachary is a strong student who has demonstrated a diversity of skills through his communication course work including leadership, research, writing, and interpersonal skills. Dr. Jacquelyn Arcy noted that "he has been a strong leader in group projects and he has been positive, professional, and energetic in working with clients and other students."
Zachary has held several leadership positions on campus. He serves as president and scholarship chair for his fraternity, Sigma Lambda Beta International Fraternity, Inc.; as vice president and program coordinator for the Black Student Union; and as diversity outreach director and event coordinator for Active Minds. Zachary played an instrumental role in developing a campus-wide event on black mental health that featured a nationally recognized speaker. April Puryear, program associate for the Office of Multicultural Student Affairs, also praised Atkins for his eagerness to help students as a peer mentor. "He has successfully demonstrated leadership ability by mentoring new incoming students, planning and implementing programs and providing valuable resources to students. Zach is also a great leader who comes up with creative solutions to problems," Puryear said.
Zachary has been lauded for his communicative skills and his commitment to diversity and success. In Comm 207 and 208, the Communication Department's introduction to theory and research courses, Zachary combined his interests in multicultural student affairs with demonstrating strong promise as a thorough researcher. "He studied the benefits of multicultural groups on campus and how they positively affect students of color. He went above and beyond the requirements by creating a 12-page lit review, then creating a survey," said Dr. Adrienne Viramontes. "He is an overachiever. He is a strong writer. He has high goals for graduate school."
Zachary has also taken the initiative to go above and beyond regular expectations for earning a degree by completing not just one, but two study abroad trips (one to Cuba and the other to Mexico). He has been accepted into graduate school and awarded a graduate assistantship. His activities, on and off the campus, as well as his achievements, are numerous. He has been active in supporting the campus 2019 Native American Heritage Month celebration, served on an OMSA Search and Screen Committee and campus Dignity and Respect Task Force. Zachary has volunteered for organizations like Habitat for Humanity through UW-Parkside and has been honored as a Newman Civic Fellow.
Congratulations, Zachary. 
Outstanding Graduates – alphabetical order 
 
Elisabeth Isetts  – Business Management, Marketing (Algona, IA) 
Elisabeth Isetts is a nontraditional UW-Parkside student and a mother of two current UW system students. She is expected to graduate with a GPA of 3.92, earning her dual majors in Business Management and Marketing. Even more impressive is that she balanced pursuing her degree while being employed full time as a manager of planning for a prominent local company. Dr. Peter Knight lauded Elisabeth for her work ethic, noting that, "Elisabeth is a shining example of a nontraditional student getting the very most from their UW-Parkside experience. I had the pleasure of teaching Elisabeth in four different classes and very rarely in my 19 years of teaching have I encountered a student of any age who was so diligent, thorough, and engaged."
Elisabeth not only balanced her home life, academic endeavors, and her career -- she was quite busy in the campus community and beyond. She was selected for membership in Beta Gamma Sigma and was a member of Master Singers at UW-Parkside. Elisabeth was also awarded a Celebrazione Italiana scholarship for student abroad traveling to Italy, managing to receive both the Momentium and Bambu awards (real-to-life sales simulations) in her Advanced Personal Selling courses. On top of that, Elisabeth has been praised for her activism and leadership in the Kenosha-Racine community, serving as secretary/treasurer for Kenosha Montessori School, and serving on the school's Board of Directors.
Congratulations, Elisabeth.
Jennifer Lei – Accounting, Business Management (Mount Pleasant, WI) 
Jennifer Lei came to this country with her parents when she was still a teenager, relocating from Guangdong, China. Her family did not have a lot of money when they started their new lives. "Our anxiety was imaginable when we were told to pay our income tax," said Jennifer, recounting her past. She wants to become an accountant because it is a career that provides the knowledge, the professionalism, and more importantly, the reassurance that people like her family need.
Jennifer is expected to graduate with a GPA of 3.912, earning her a Bachelor of Science in Accounting and Finance. This is arguably the most demanding dual major in the Business program. Yet despite that, Jennifer has proven herself a remarkable student. She has been on the Dean's and Provost's list every semester at UW-Parkside. She is currently working toward completing the 150 credit hour requirement before sitting for the CPA exam. Jennifer has been very active in the campus community, serving as vice president at the UW-Parkside Accounting Club. At the same, Lei has shown her skills outside of campus, as a certified tax preparer for the Volunteer Income Tax Assistance program through the United Way in Racine.
Congratulations, Jennifer. 
Alyssa McClelland – Biological Sciences (Union Grove, WI) 
Alyssa McClelland, a first-generation college student from the rural community of Union Grove, Wis., credits her parents with teaching her the value of hard work as well as providing her with the determination and "grit" to pursue her dreams in the face of life's challenges. When her mother was diagnosed with cancer, Alyssa witnessed firsthand the compassion and quality of care she received. Her mother recovered and Alyssa later had the opportunity to shadow her mother's oncology team. It was this experience that inspired McClelland to pursue her dream of becoming a physician.
Alyssa has proven herself to be an exemplary student, earning a 3.83 cumulative GPA and 3.88 major GPA while pursuing a challenging undergraduate degree in Biological Sciences. Her academic prowess and perseverance have paid off, because she has been accepted to the highly competitive M.D. program at the University of Wisconsin-Madison School of Medicine and Public Health. In addition to her accomplishments as a scholar, Alyssa is an accomplished athlete, recognized as two-time recipient of the Division II Athletics Directors Association Academic Achievement Award.
Congratulations, Alyssa. 
Anmol Patel – Biological Sciences (Kenosha, WI) 
Anmol Patel has earned an impressive 3.91 GPA on her way to completing her major in Biological Sciences and a minor in Psychology. From the moment UW-Parkside Professor Dr. Bryan Lewis met Anmol when she was a prospective student in high school, it was apparent that she was a very focused and dedicated student. Anmol has made it to the Provost's list in five of the six semesters she has completed.
Biochemical Metabolism (BIOS 307) is considered by many to be one of the more challenging courses in the curriculum and is highly populated by many students who aspire to be health professionals. In the fall 2018 semester, Anmol earned the second highest grade (96%) out of 55 students completing the course and was one of only five to earn an "A" grade. Associate Professor Dr. Robert Barber has remarked that Anmol is a truly dedicated student, noting that in 20 years of experience providing instruction to students with designs on medical school, "it is relatively rare for a student to stand out so clearly as one who will be successful. Anmol is such a student."
Anmol's success hasn't been limited to academics. She has over five years of health-care experience working with patients and professionals in a wide variety of settings. She has worked as a certified nursing assistant for the past two years in Milwaukee at Aurora St. Luke's Medical Center; she worked as a medical scribe for eight months at Ascension All Saints in Racine; she worked as a pharmacy technician at Walgreens for one and a half years in Kenosha, and she has worked as an intern in Wisconsin Rapids for a summer as part of the RUSCH Community Health Internship program. Both on and off campus, Anmol is a dedicated natural. She is an AssiSTEM mentor, she had previously served as treasurer for the Latinos Unidos student organization, and more.
Congratulations, Anmol. 
Ben Sieren –Geosciences (Wind Lake, WI) 
Faculty members of the Department of Geosciences consider Ben Sieren one of the strongest candidates they have nominated for the Outstanding Graduate Award over the past 20 years at UW-Parkside. Ben is a self-motivated and gifted student, boasting a 4.0 GPA and inclusion on the Provost's and Dean's lists every semester. Ben has worked on research projects with each faculty member of the department and has also received the UW-Parkside Undergraduate Research Assistantship Program (URAP) grant. His project on interactions of color dyes with earth materials, under the direction of Dr. George Li, resulted in him becoming one of the co-authors for a manuscript to be submitted to a peer-reviewed journal for potential publication. In addition, he was a research assistant for a project funded by WiSys to study the removal of ethidium bromide from water.
Ben's academic achievements can be seen in his acceptance to at least three graduate schools: University of Wisconsin-Madison, University of Wisconsin-Milwaukee, and Iowa State University. He will begin his graduate studies in fall 2020. Ben has shown himself to be just as dedicated outside of the classroom. He has been a contributing member of the Geosciences Club and served as the 2019-2020 president. Part of this role involved planning the Geoscience's Club spring-break trip. He coordinated all planning aspects of the trip, including the itinerary, transportation, lodging, meals, budgeting, and fundraising. Ben has been accepted into the Geological Engineering Master's program at UW-Madison, which he will begin in September.
Congratulations, Ben.