Outstanding Graduates Spring 2022
Published: May 9, 2022
By:

UW-Parkside Marketing & Communications
Chancellor's Award
 
Kelly Burke - Accounting, Marketing Information Systems, Marketing & Business Management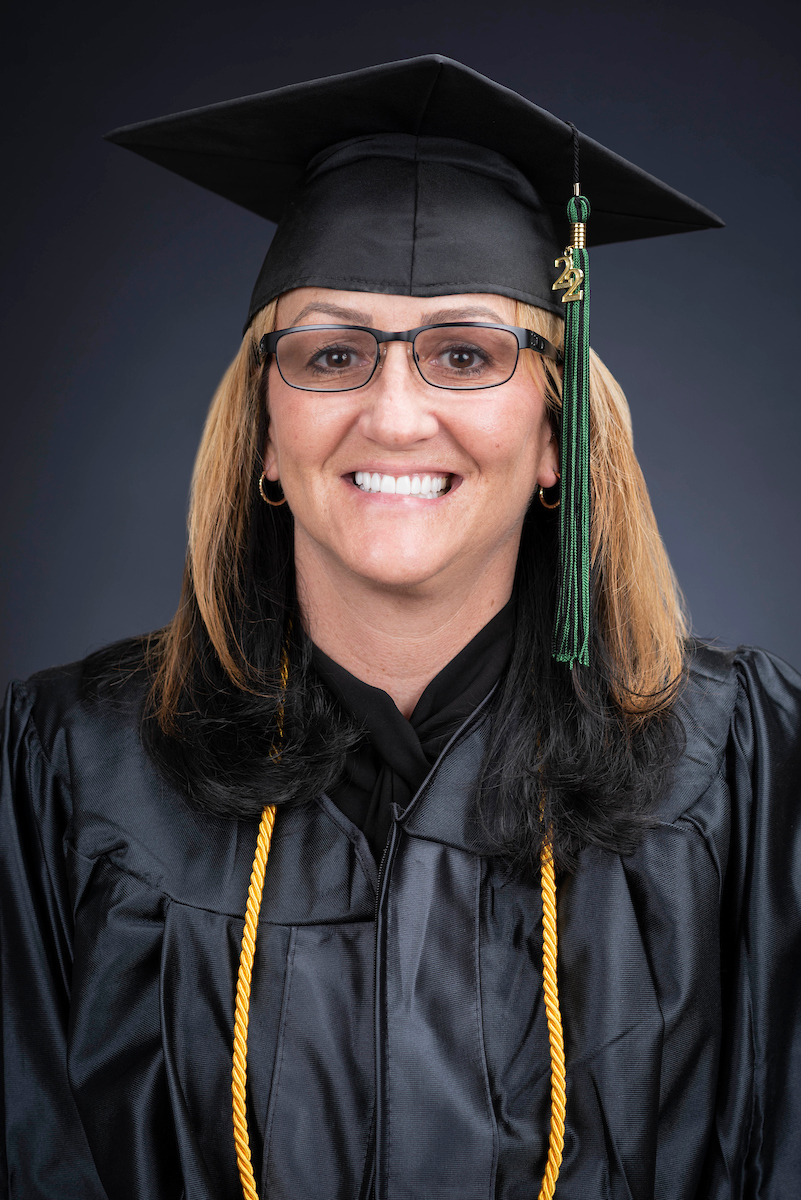 Burke is graduating with four majors: Accounting, Management Information Systems, Marketing and Business Management with a finance concentration. She is also completing certificates in project management and sales. Burke has achieved a near-perfect GPA and has been on the Dean's and Provost's lists every semester. She has been inducted into Beta Gamma Sigma, a business honor society. Burke is married with a family of 8 children and works a full-time job as a quality-control supervisor.
Burke has served as the Vice-President of the Accounting club, as an ambassador for Becker accounting, and is a member of the Wisconsin chapter of Women in Technology – an organization that promotes women's participation in technology/STEM fields and careers. Burke met with the AACSB visit team as a student-representative when the department went through the reaccreditation process. Burke also participated in "Rebuilding Kenosha," and worked as an intern for a local company where she utilized her information systems knowledge and skills to build databases. She is planning to start a non-profit organization and has been admitted to UW-Parkside's MBA program which she will start in fall 2022.
Dr. Suresh Chalasani, a professor in the Department of Business says, "It is not often that we see a nontraditional student with work and life responsibilities pursuing four different majors, two different certificates, and achieving a near-perfect GPA. It is not often that we see an exceptionally well-rounded student represent UW-Parkside on our campus and the surrounding community admirably. In an age where we are seeking to increase women's participation in quantitative and technical fields, Kelly's luminary achievements in multiple majors serve as a guiding light to future students."
Congratulations, Kelly!
---
Outstanding Graduates – alphabetical order 
 
Alisson Anguiano Salas - English & Political Science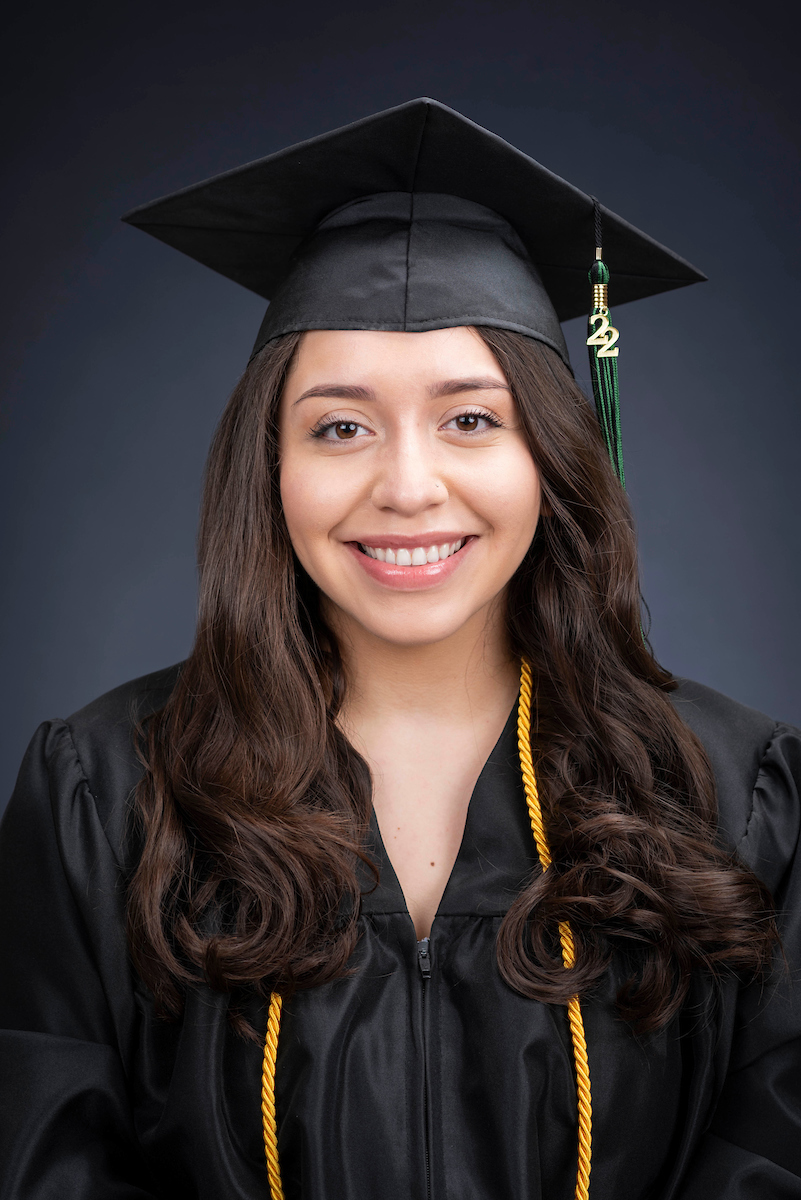 Alisson Anguiano Salas is a first-generation college student double majoring in English and Political Science with concentration in Law, and a minor in Spanish. She has served as Student Government President and Co-Chair of the Student Equity, Diversity, and Inclusion Committee (SEDI), which she also assisted in developing. Anguiano Salas has served in various capacities with Latinos Unidos including President, Scholarship Chair, and Secretary. She developed the Racine Equity and Environmental Justice group and created a survey shared throughout the county in English and Spanish utilizing her fluency in both languages. Anguiano Salas was selected as recipient of the Andrew Goodman Ambassadorship, where she managed events for UW-Parkside to encourage civic engagement.

She earned the Newman Civic Fellowship, which supports students who are committed to their communities and continues her hands-on work of civic engagement as a member of the League of United Latin American Citizens (LULAC), and as a fellow for Leaders Igniting Transformation (LIT). Her fluency in English and Spanish have made her an invaluable tutor at the Parkside Academic Resource Center (PARC). She was selected for the National Collegiate Hispanic Honor Society, Sigma Delta Pi and is also a member of the International English Honor Society, Sigma Tau Delta.

Congratulations, Alisson!
---
Bo Brasseur - Master of Science in Sport Management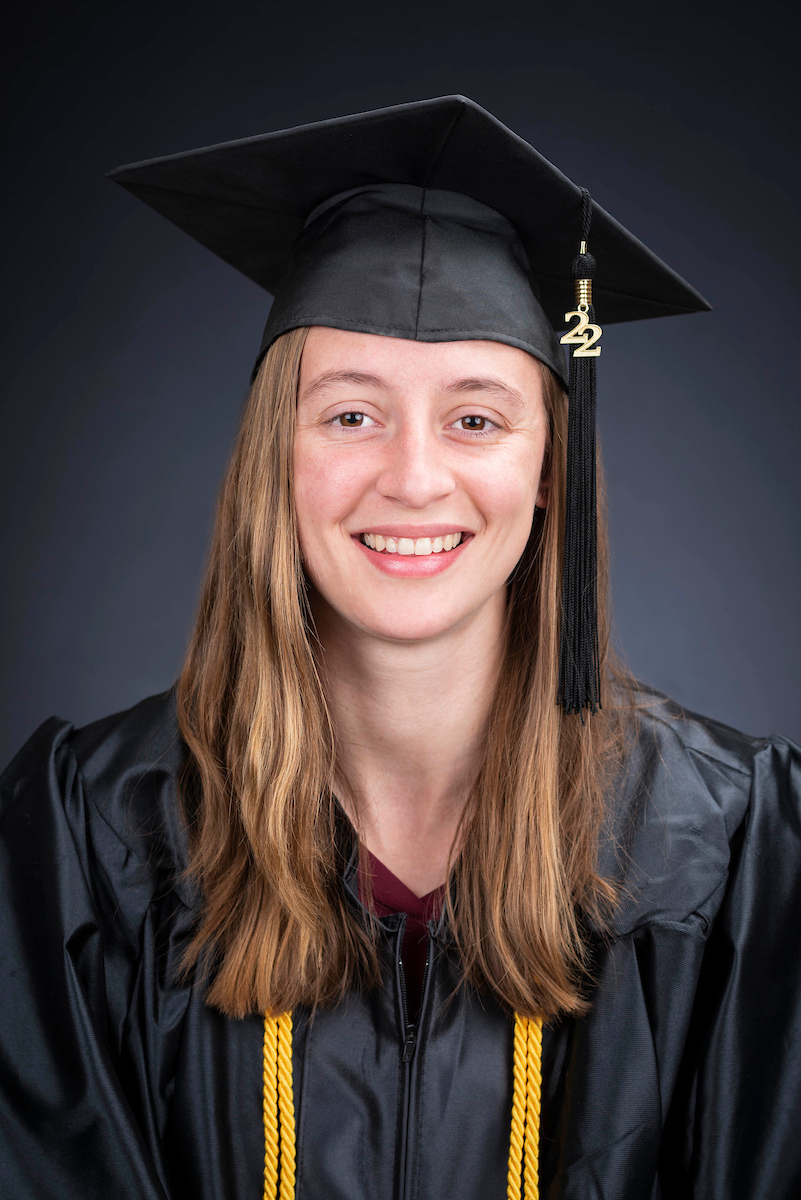 Bo Brasseur is the first UW-Parkside Master's of Science in Sport Management student to complete a thesis. Students in the program choose between gaining experience in the field and taking a current issues course or completing a thesis. The thesis path requires the student to work on a research project of their own creation. Her thesis topic examines what coaches know regarding the mental health aspect of athlete recovery.
In her Graduate Assistantship, Brasseur is required to teach the relaxation activity course. She was also the graduate assistant coach for the Track and Field and Cross Country programs, including coaching all jumps and throws and competing at an elite level herself.
Brasseur has been extremely impactful for UW-Parkside Athletics in many ways, including assisting with travel arrangements, educating on nutritional needs and concepts, coaching almost all field event athletes, and helping plan and implement volunteer opportunities for the team. She is also competing internationally as a Long Jumper and was the Belgium 2020 and 2021 National Women's Long Jump champion.
She also assisted with the planning and implementation of an athlete fueling station, combining her undergraduate degree in dietetics and the knowledge she has gained regarding sport management to assist all student-athletes at UW-Parkside.
Congratulations, Bo!
---
Crystal Chisom - Political Science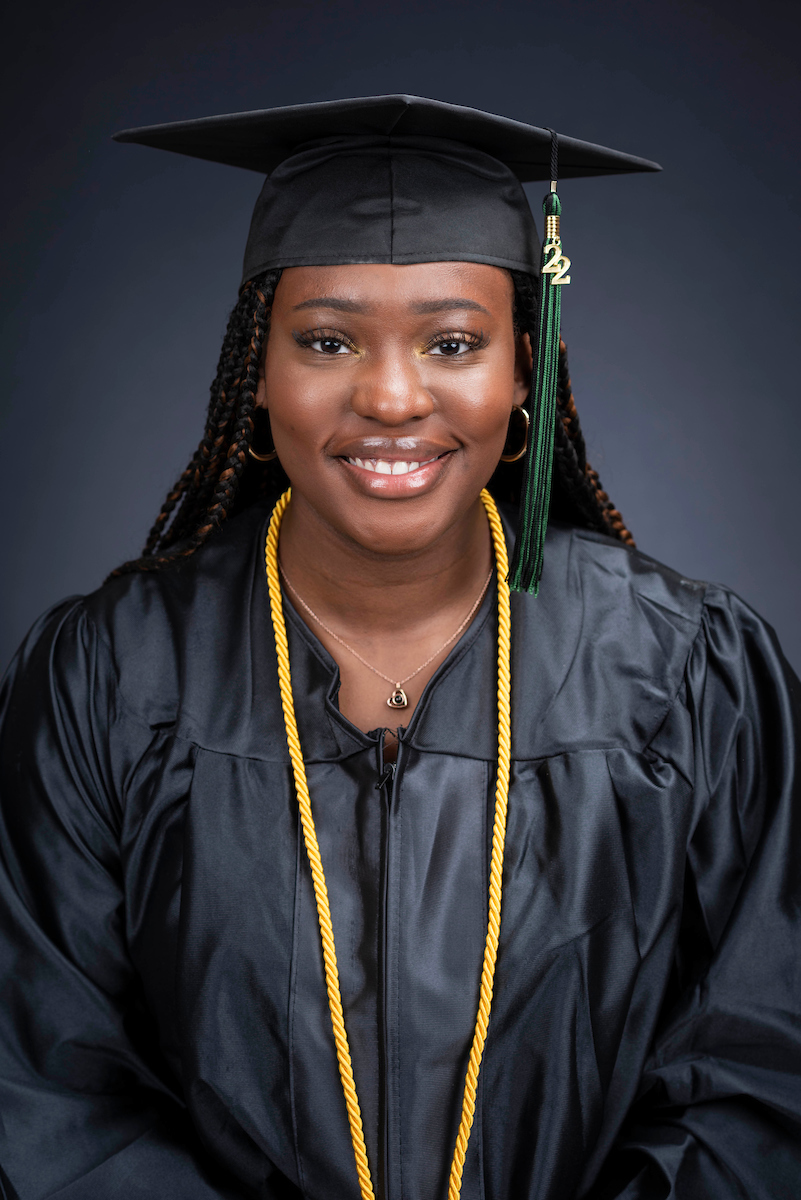 Crystal Chisom's superior GPA is a surface indicator of her aptitude as a learner, creator of knowledge, and teacher. She approaches her scholarship with discipline, creativity, and curiosity. Across the public policy and law curriculum, Chisom has mastered the craft of social thinking.
Chisom is a member and officer of several campus organizations, including the Black Student Union, Parkside Student Government, and the Student Equity, Diversity, and Inclusion Council. Chisom has also been a peer mentor in the Advising and Career Center and a success coach in the Office of Multicultural and Student Affairs. She also volunteers as an intern with the Racine Habitat for Humanity and as a math tutor for 7th grade girls at Bullen. Chisom is a leader for racial justice in Kenosha and created a petition directed towards the Kenosha Unified School District to advocate for comprehensive racial and culturally comprehensive curriculum. This lead to her working with the Coalition for Dismantling Racism and Building Our Future.
Chisom has achieved these academic and community service success while working either part-or full-time, most recently as a Resident Assistant, but also as a phlebotomist, an intern at the Kenosha courts, a fellow with the Wisconsin Rural and Urban Scholars and Community Health (RUSCH), and selling retail.
Congratulations, Crystal!
---
Jonathan Helton-  Criminal Justice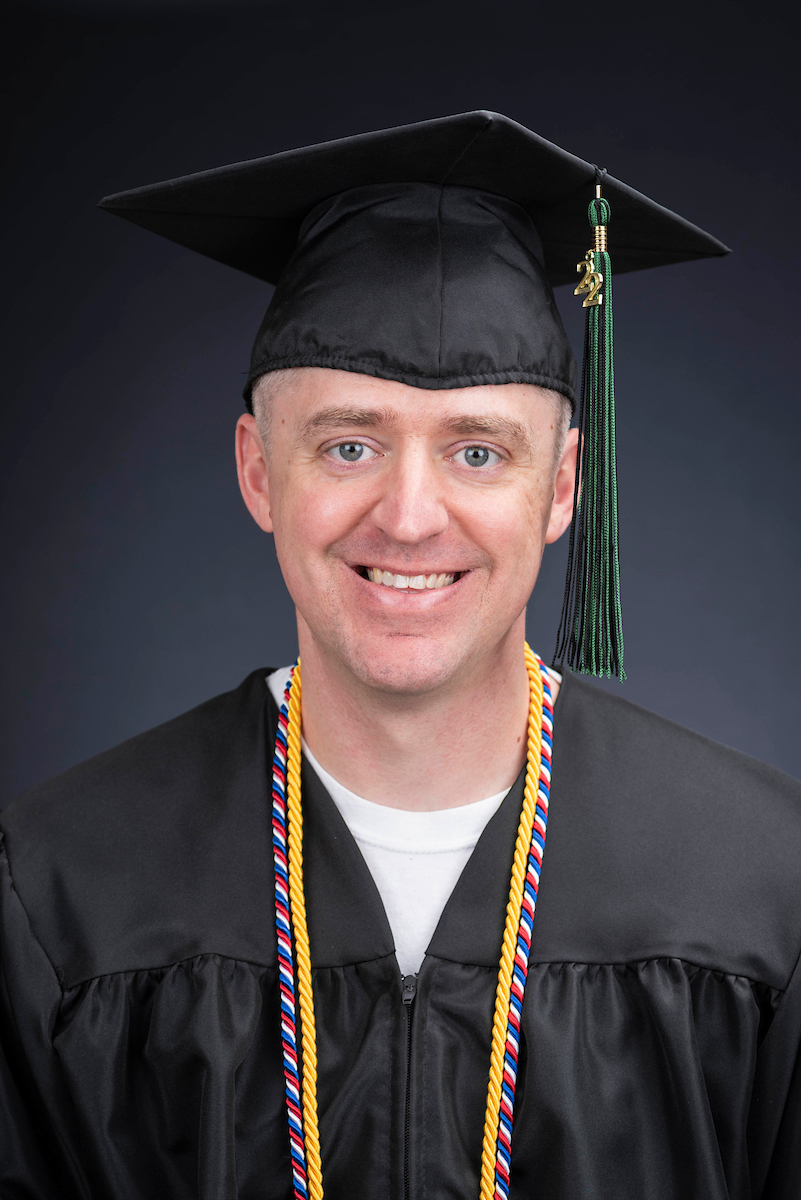 Jonathan Helton is universally respected and appreciated within the criminal justice department. Helton's performance has been truly outstanding and has achieved an excellent GPA and has been on the Dean's List and the Provost's List during every semester that he's attended UW-Parkside. He also received the title of Distinguished Military Graduate by the Army.
Helton is tremendously hard working, always prepared, and attentive. Most importantly, his attitude toward education is ideal as he constantly wants to learn more.
He truly embodies the idea of a life-long learner. Helton has given of himself through nearly a decade and a half of public service. He been in active service in the Army for the past 13 years and currently holds the rank of Staff Sergeant. Prior to joining the Army, Helton worked with Kenosha elementary school students reading with them and tutoring. He has also volunteered his time as an assistant coach for youth softball and basketball teams.
He is respectful of all people, including his fellow students and is much more interested in listening to what his fellow students have to say than in lecturing them. He has a good sense of humor, but his most defining traits are humility and empathy.
Congratulations, Jonathan!
---
Sierra Malvitz - Political science & History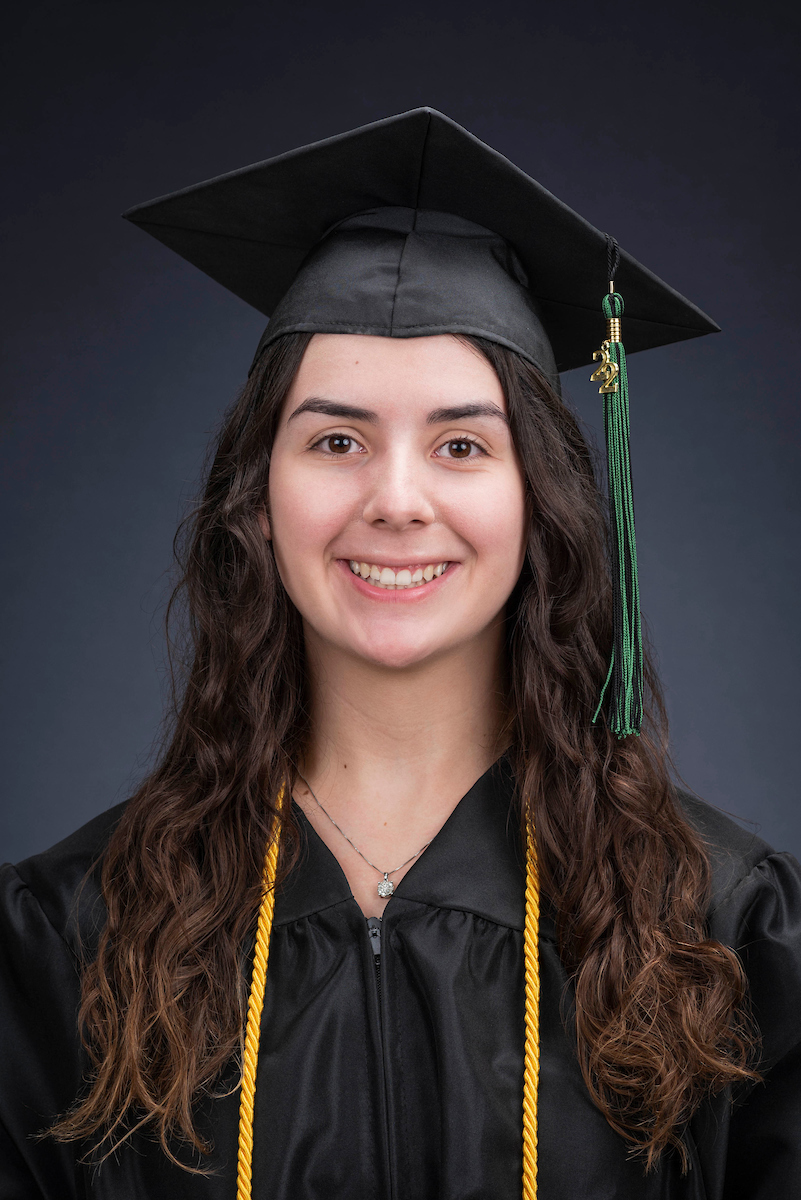 Sierra Malvitz has achieved an impressive GPA while enrolled in 15 credits per semester and working an average of 25-30 hours a week external to the university. Malvitz is majoring in both political science and history. She was a member of the Parkside Environmental Club and she was a student member representing the Politics, Philosophy, and Law Department on the Segregated University Fee Advisory Committee (SUFAC).
Malvitz has been published in a peer-reviewed journal article. In 2020-2021 Malvitz was hired as a research assistant on a project funded through the Tommy G. Thompson Center on Public Leadership. In this role, Malvitz was tasked with a content analysis of all 179 county and municipal law enforcement agency websites in the state of Wisconsin in order to assess the availability of information on these websites. This original dataset she helped create was then compared to whether the quantity and quality of information available on law enforcement websites are similar to those of local governments and school districts. The result of the study was a publication in the journal Policing: An International Journal, which is well regarded in the field of criminal justice. Malvitz has a keen interest in studying gendered dynamics of society, we also explored if the gendered composition of law enforcement agency websites impacted information availability.
Congratulations, Sierra!
---
Madelynn Sinclair -Biological Sciences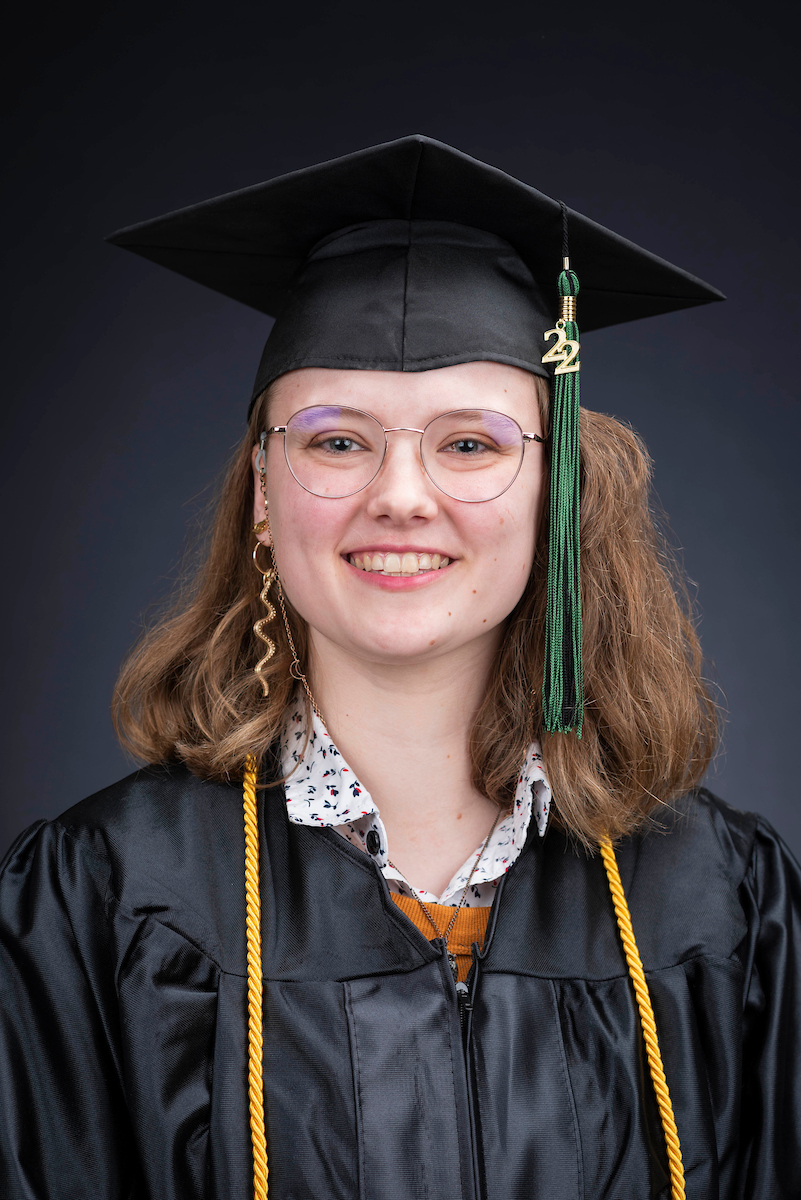 Madelynn Sinclair's accomplishments exemplify her work ethic, high achievement, and success. In her "Animal Behavior" class, she took on a study of social behavior in cattle. Not knowing any local farmers, she took initiative and sought out a suitable farm, convincing the farmer to allow her to do her research.
In "Vertebrate Zoology", she took part in a semester-long study of the vertebrates inhabiting a wetland on campus. She spent hours recording the animals, their behavior, and their habitat. She was asked to become a Supplemental Instructor for the introductory course Organismal Biology and served in that role for three semesters.
At the Field Museum of Natural History in Chicago, she conducted a study of the heritability of morphological variation in a sea snake, Lapemis curtus. She was later appointed a Scientific Affiliate of the Museum.
Sinclair received a National Science Foundation Research Experience for Undergraduates fellowship at the American Museum of Natural History in New York, working on the functional morphology of bat vertebrae. Sinclair is also a gifted artist. She illustrates the appearance and morphological traits of her sea snakes, and makes the figures for her presentations. After graduating, she plans to complete her sea snake project at the Field Museum and apply to graduate school.
Congratulations, Madelynn!
---
Thomas Stirrat - Biological Sciences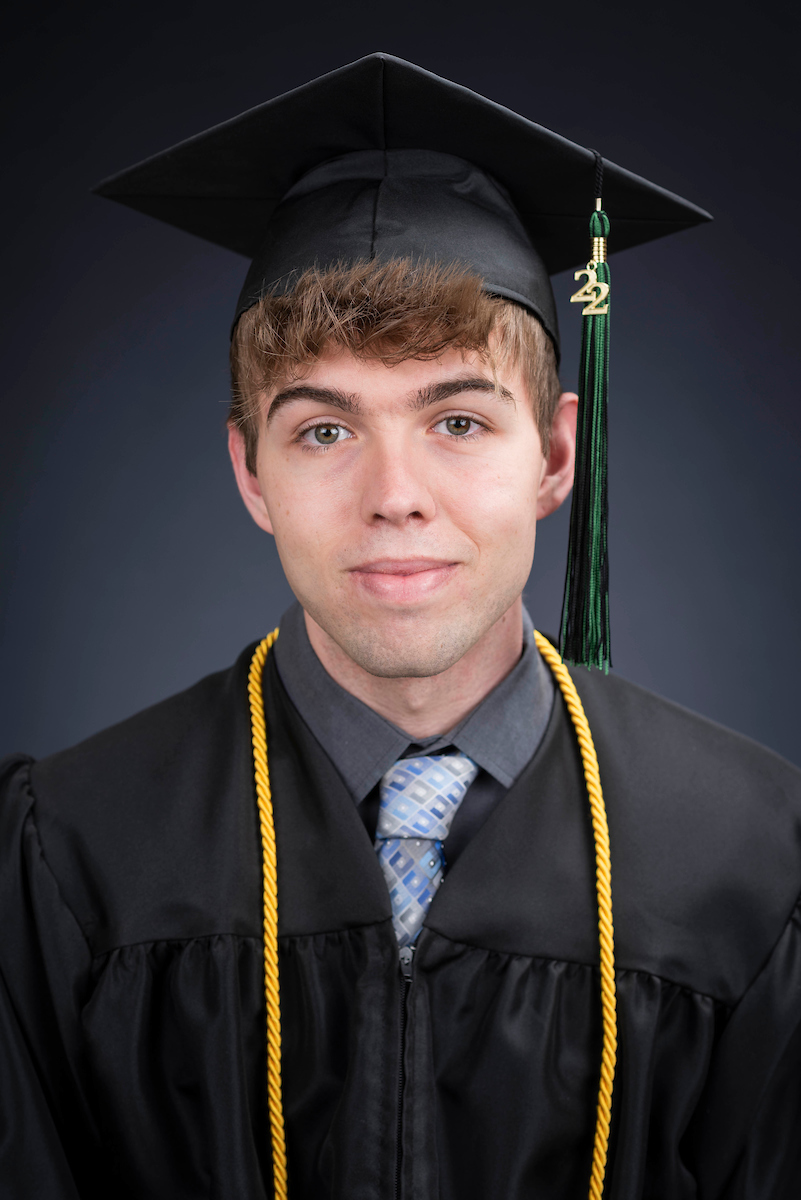 Stirrat came to UW-Parkside in the Spring of 2019 after completing an undergraduate degree. Stirrat has continued to excel and impress and earned an impressive GPA while completing his second undergraduate degree.
In addition to his strong academic abilities and performances, Stirrat is dedicated to scholarly activity and has actively sought it out throughout his academic career. During his seven semesters at UW-Parkside, Stirrat has been engaged in nine different research experiences, with nine different professors, spanning three different departments at UW-Parkside, and three different Universities. He served as a Supplemental Instructor on campus, and as the President of Assist STEM and the Dean's Student Council.
Stirrat founded and served as Editor-in-Chief of the Parkside Journal of Science, served as the President of the Molecular Biology Club, and has been a Certified Nursing Assistant. He shadowed over half a dozen physicians in a variety of areas, served as a Hospice volunteer for three years, and volunteered as a Post-Anesthesia Care person for three years. Stirrat also volunteered at Bernie's book Bank, the Northern Illinois Food Bank for three years, Meals on Wheels, Hot Meals 2 Go, Food Pantry, and Christmas drive for three years.
Congratulations, Thomas!
---
Timothy Zimmermann - Master of Business Administration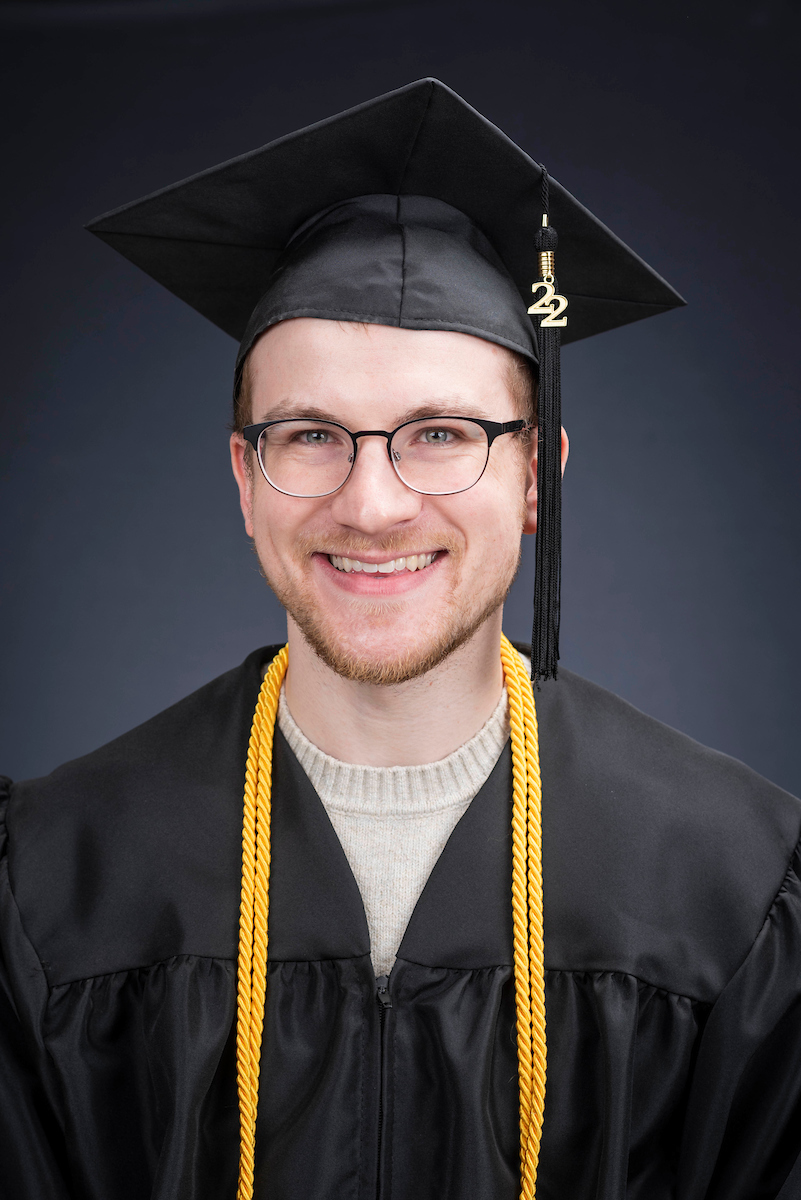 Timothy Zimmermann earned a stellar overall GPA for his Master of Business Administration (MBA) and also graduated with his undergraduate degree from UW-Parkside in May 2018 with a double major in business management and economics. He is quick to participate in class and help others and his work is consistently well done, thorough and accurate. He is also able to apply his academic studies to his full-time career in banking.
Zimmermann stands out as a student who works well without supervision and is highly self-motivated, two very important characteristics to hold as an MBA student. As an economics major, Zimmermann clearly demonstrated his careful and methodical thinking and his analytical prowess.
During his MBA coursework, Zimmerman worked full time for Educators Credit Union (ECU) dating back to before he graduated with his undergraduate degree. His goal is to provide financial understanding to the community in efforts to make others more financially sound. Zimmerman co-lead's ECU's branches donations efforts for United Way of Kenosha and Racine counties. Zimmermann also has experience teaching high school students at Indian Trail Academy about finances through their "Reality Check Days." His goal is to bring his knowledge from his MBA to local high schools to help students with financial literacy.
Congratulations, Timothy!