Student Center
Parkside's Student Center is the hub of what's happening on campus! It's where you go when you're hungry or meeting a friend for coffee, grabbing a cup at The Encore, a sandwich at Wyllie Market, or a hot meal at the Brickstone Grill & Eatery. You'll head to the Student Center to buy books and Parkside paraphernalia at the Bookstore. You'll attend meetings there, stop by the convenient Credit Union, inquire about employment options, and find nooks where you can study alone or with friends. Plus, if you're not sure about something, our helpful Campus Concierge is right in the lobby, to answer any questions you may have.
For fun, the Student Center offers films and speakers at The Cinema. You can also stop by the Student Involvement Center on the first floor to find out about getting involved in student media, the Parkside Activities Board, Student Government, service opportunities, and a wide variety of campus organizations. There is something for everyone at Parkside – and your journey can start right in our bustling Student Center.
The Student Center is home to a plethora of student resources. Right at the door, you have the University Bookstore where you can get all your apparel, all your books. You can get frisbees for disk golf. There's the educator's credit union. There's the Campus Concierge where you'll do a lot of your ranger card stuff. You got Encore, which is our on-campus Starbucks. It also doubles as a concession stand for the cinema that's in the Student Center. Next to that, you've got the Brick Stone, which is the main place where people will get lunch. They'll get dinner, breakfast there. In the seating area for the Brick Stone, you have WIPZ, which is our on-campus radio. Down the stairs, you have The Den, which is a great late night hangout. Normally, when the Brick Stone closes, The Den will open up and then that becomes a place where you can get late night snacks. In addition to that, you have Campus Activities and Engagement, which is the office that runs our 70 plus clubs and organizations we have here on campus. And then also, the Student Involvement Center's in there where a lot of these organizations have their offices. Down the hall then you have the University Ballroom, which is used a lot of times for big events. We always have our big award events in there. The Student Center is a great place for students to come to get engaged and find activities to do on campus.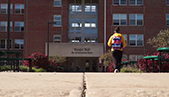 Community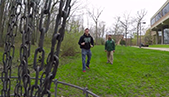 Disc Golf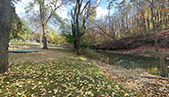 Nature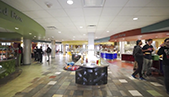 Student Center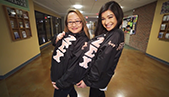 Student Clubs and Organizations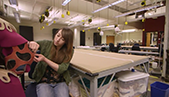 The Rita