The Rita
The arts come alive at UW-Parkside!
The Rita Tallent Picken Regional Center for Arts and Humanities is one of the newest and largest learning and performance centers in the area. "The Life Expressive," an iconic art installation by Wisconsin artist Steve Feren, welcomes students and visitors alike.
Affectionately known as "The Rita," you'll discover amazing performance venues such as our incredible Frances Bedford Concert Hall. Bedford Hall has been called an "acoustically perfect performance venue" by musicians from around the world.
The Rita's state-of-the-art instruction facilities include studios for music, theatre, arts, and the 2-D art programs.
The Black Box studio theater provides our award-winning theatre arts company with the versatility to explore a myriad of production settings.
Art programs at The Rita are as varied as the space itself. From theatre productions and concerts of every genre, to a multitude of art exhibits in three museum-quality galleries -- as its name implies, The Rita truly is a regional treasure.
The Rita Tallent Picken Regional Center for Arts and Humanities is really where the arts come alive at Parkside. We have two stages for theater performances. Right now, we're currently in the Proscenium main stage. It is a 800-seat theater. We have the Black Box, very versatile. The seats can be changed for any design that the show has at that time. We have a costume lab that's a lot bigger than most professional costume labs. We have a scene shop. We have a brand-new lighting and sound lab. And we have two studio spaces where students can go to work on monologues and performances. We have a lot of really awesome art spaces. There are three different art galleries in the Rita that students can display their works, and show what they've done and show how far they've come. We have a ceramics studio. We have several different studio art spaces. The music spaces are all brand new. We have that entire new wing. We have the Bedford Hall. It's a great place for students to just experience music. One of the cool things about the Bedford is that people say it's an acoustically perfect concert venue. People are invited to see performances, whether it be theater, or art gallery showings or concerts in the Bedford. Another cool thing they do here in the Rita is they have a foreign film series that's been going on for more than 35 years. The Rita's actually really fun to hang out in. You can really walk through the hallways, and know everybody and say hi to people, even if you've never had a class with them before. So it's a really welcoming environment.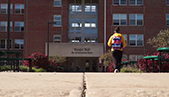 Community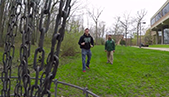 Disc Golf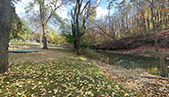 Nature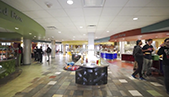 Student Center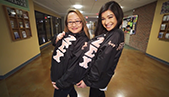 Student Clubs and Organizations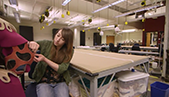 The Rita