Nonprofit Professional Training
At UW-Parkside, we greatly value the continued service of nonprofit organizations in our local communities. We are here to support your training and growth as a nonprofit professional with quality and affordable development opportunities. Featuring workshops, certificate programs, and a bi-annual conference, view our offerings today!
A Morning with Deanna Singh: Steps to Becoming an Inclusive Workplace
Start Date: 10/27/2022
Meeting Time(s): 8:30 am-11:30 am
Cost: $49 by 10/12, then $69
Credits: 0.3 CEUs
Join author Deanna Singh in a facilitated conversation with leaders from the local nonprofit community about the content of her book Actions Speak Louder and the application of recommended steps to becoming an inclusive workplace. Take this opportunity to engage with Deanna Singh as she delves deeper into challenging issues and relevant opportunities and shares her learning from organizations across the country that are on their own journeys toward inclusion.
The center for Community and Business Engagement will award up to 20 free spots to UW-Parkside Students. Awards to be announced on September 30. Click here to apply today!

Thank you to our sponsors!
Deanna Singh wants to live in a world where marginalized communities have power. As an expert social entrepreneur, she is obsessed with making the world a better place, and she will build or break systems to create positive change. While tackling complex social challenges, Deanna gives audiences the tools and courage to imagine, activate and impact the world as agents of change. Deanna is described as a trailblazer and dynamic speaker who is at the forefront of social change. She is an award winning author, educator, business leader, podcaster, and social justice champion! 
Singh earned her Bachelor of Arts in Urban Studies from Fordham University, a Juris Doctorate from Georgetown University, and a Master's in Business Administration from the University of Wisconsin – Madison. She has been recognized by the Milwaukee Business Journal as one of the community's most influential 40 Under 40 Leaders, the State of Wisconsin as a Women Who Inspires, and by Forbes as an African American Woman Everyone Should Know.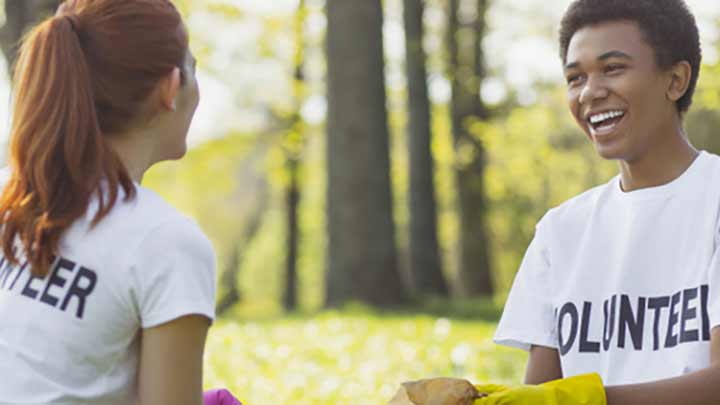 Certificate in Nonprofit Management
Type: Online, Self-Paced
Start Date: Open Enrollment
End Date: 12 Months to Complete
Cost: $699
Credits: 4.4 IACET CEUs, 35 HRCI Credits, 44 SHRM PDCs, 23 CFRE Points
Includes: Certificate, Badge
This online certificate program introduces learners to key current management issues for nonprofit organizations. Fundraising, board and volunteer development, budgeting, reading financial statements, leadership, marketing, and setting strategic direction are all addressed, and video commentary on these crucial topics will give you insight into how nonprofit professionals apply key concepts in their own organizations. Each 3 to 5 hour, self-paced course offers an assortment of interactive exercises, videos, selected readings, case studies, and self-assessments that will engage you and help you practice effective decision making in a nonprofit setting. After completing all the courses, learners will engage in a simulation meant to test the concepts covered in the courseware. Some courses in this certificate award CFRE credits.

Features:
Mobile-friendly
Audio-enabled
Badge and credit-awarding
Real-world case studies
Fully accessible
Games & Flashcards
Expert-supported
Video content
(This course is powered by MindEdge) 
Courses Included in this Certificate
Budgeting in a Nonprofit Organization
How to Read a Nonprofit Financial Statement
Leadership in a Nonprofit Organization
Nonprofit Board and Volunteer Development
Principles of Marketing for Nonprofit Organizations
Strategy for Nonprofit Organizations
Capital Campaigns
Introduction to Grant Writing
Introduction to Nonprofit Management
Social Media for Nonprofits
Fundraising for Nonprofit Organizations
"This was a wonderful learning experience, and it has really given me great insight on the non-profit budgeting process. I been working for a non-profit for over 5 years, and I am starting to move up in management. I know that budgeting management is going to propel me to the next stage of management, and I feel the content and exercises in this course have given me a great knowledge base. I feel more confident moving forward and am optimistic about my future career path." 
"Though I have worked with nonprofit budgets for several years, I knew that there were many gaps in my knowledge and understanding that could be filled. This class solidified many already-known concepts, provided clarity in others, and gave me new strategies to implement." 
What are the minimum technical requirements?
Software: 
Any modern Office suite: Microsoft Office, Apple iWork, OpenOffice, or LibreOffice
The latest Adobe Reader/Acrobat Reader ( free download available at https://get.adobe.com/reader/ )
Web Browser:
An updated version of one of the major modern browsers: Chrome, Edge, Firefox, Safari, or Internet Explorer 11
Cookies must be enabled
JavaScript must be enabled
Reliable internet connection:
Broadband cable or highspeed DSL is recommended for optimal experience.
Note: Some courses may have additional hardware and/or software requirements. Any additional requirements will be listed in the course description and course syllabus.

What is your refund policy?
You may request a refund up to 7 days from the purchase date. The registration fee will only be refunded if less than 10% of the course has been completed.

How do I contact technical support?
To report technical issues please email us at support@mindedge.com, or use our contact form below.

What are badges?
We now issue Badges, an online standard to recognize and verify learning, for more than 100 courses and simulations offered here online.
Badges allow students and professionals to publicly share their skills, knowledge, and accomplishments online, which may help with future career and education opportunities. Learners can manage and share badges across the web from their Badgr. (You can set up a free Badgr at https://badgr.com/.)
Learners who successfully complete their course or simulation will earn Badges. They can share their credentials online through social media and display them on resumes and transcripts.
LOOKING FOR MORE?
Check out our expanded catalog of online courses. 
 
PROFESSIONAL AND
CONTINUING EDUCATION

Mon-Fri  |  8 am-4:30 pm 
262-595-3340
900 Wood Rd.
Kenosha, WI 53144 
Tallent Hall 202
Parking: Lot T
The University of Wisconsin-Parkside is committed to providing access, equal opportunity, and reasonable accommodation in its services, program activities, education, and employment for individuals with disabilities. To request disability accommodations, contact Professioal and Continuing Education at least eight weeks in advance at: 262-595-3340 (V), 262-595-2513 (FAX), or email continuing.ed@uwp.edu.