Health and Human Services
Maintain your social work or health care related license or certification with quality, convenient, and affordable options to gain Continuing Education Units at UW-Parkside! One tenth of a CEU (0.1) is granted to an individual for every hour of participation in an organized continuing education experience. Similarly, each hour may also be expressed as a Continuing Education Hour or CEH, with one CEH granted per hour of participation.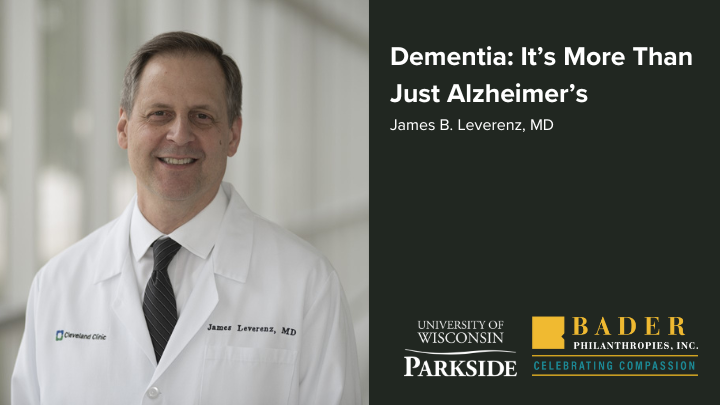 Dementia: It's More Than Just Alzheimer's
Type: In-Person and Virtual
Start Date: 09/19/2023
Meeting Time(s): 9:00 am-11:00 am
Cost: Free
Credits: 0.1 CEU/1 CEH provided
Includes: Light Breakfast
As the treatments for Alzheimer's disease and related dementias move toward interventions aimed at the underlying disease process, and not just symptoms, we need to be sure to understand all the brain changes that underlie the symptoms ("syndrome") that we observe. This presentation will review the brain changes of Alzheimer's disease and related dementias, how frequently they occur and co-occur, how we might detect those changes in individuals at risk or suffering from dementia, and how we'll be using new treatments to slow and treat the brain changes driving the symptoms. 
This event is brought to you in partnership with Bader Philanthropies, Helen Daniels Bader Speaker Event Series
James B. Leverenz, MD, is the Director of the Cleveland Lou Ruvo Center for Brain Health, and the Jane and Lee Seidman Endowed Chair for Advance Neurologic Research and Education of the Neurological Institute at the Cleveland Clinic. He obtained his undergraduate and medical education at the University of Washington. He has post-graduate training in neurology from the New York Hospital/Cornell Medical Center and neuropathology from the University of Chicago. His primary clinical and research interests are the aging-associated neurological disorders including Alzheimer's disease, dementia with Lewy bodies, and Parkinson's disease. Currently, he is the principal investigator for the National Institute of Health funded Dementia with Lewy Body Consortium and the Cleveland Alzheimer's Disease Research Center. He serves on the scientific advisory council for the Lewy Body Dementia Association and is on the board of directors and professional advisory board for the Cleveland Chapter of the Alzheimer's Association.
Are there any software requirements?
For those attending virtually, a solid internet connection and computer compatibility with Zoom are required. If you need assistance in determining your setup, please reach out to us!
Are CEUs/CEHs provided?
Yes, 0.1 CEU/1 CEH will be provided. Please request CEU/CEHs when registering for the event. Certificates will be emailed out to the email address used to register approximately two weeks post-event.
LOOKING FOR MORE?
Check out our expanded catalog of online courses. 
 
CEU Information by Profession
Wisconsin Licensed Social Workers: Our programs qualify as continuing education offered by an accredited university.
Wisconsin Licensed Marriage and Family Therapists: Our programs qualify as continuing education offered by an accredited university.
Wisconsin Licensed Professional Counselors: Our programs qualify as continuing education offered by an accredited university.
Wisconsin Substance Abuse Counselors: Programs qualify as continuing education courses consisting of relevant subject matter taught by qualified presenters.
Wisconsin Department of Public Instruction: Programs from the University of Wisconsin campuses may qualify towards your Professional Development Plans (PDPs).
Other Professions: Contact your professional board or organization for specific continuing education requirements.
PROFESSIONAL AND
CONTINUING EDUCATION

Mon-Fri  |  8 am-4:30 pm 
262-595-3340
900 Wood Rd.
Kenosha, WI 53144 
Tallent Hall 202
Parking: Lot T
The University of Wisconsin-Parkside is committed to providing access, equal opportunity, and reasonable accommodation in its services, program activities, education, and employment for individuals with disabilities. To request disability accommodations, contact Professional and Continuing Education at least eight weeks in advance at: 262-595-3340 (V), 262-595-2513 (FAX), or email continuing.ed@uwp.edu.