Outstanding Graduates May 2021
Published: May 15, 2021
By:

UW-Parkside Marketing & Communications
Chancellor's Award
 
Jessica Myjak - Economics and Mathematics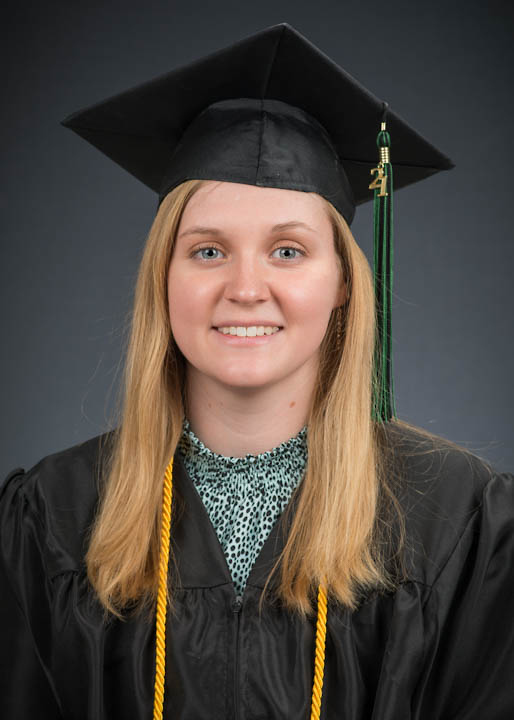 Jessica Myjak is graduating with a double major in Economics and Mathematics. Her excellent academic performance, strong leadership abilities, extracurricular activities, service to others, and empathy are deserving of special recognition. Myjak's academic work has been truly exceptional. She is a transfer student, has earned a remarkable cumulative GPA, and clearly demonstrates that she is extremely intelligent, hard-working, and motivated. Instead of focusing entirely upon her own education and personal pursuits, she has given her time and energy to help others.
Her work as a credit analyst dealing with the Paycheck Protection Program requires her to deal with individuals who are facing severe economic and emotional stresses and people whose lives and livelihoods are at significant risk because of the pandemic. In addition, she strives to lower barriers and empower others, as evidenced by her involvement with "Girls on the Drum" and math tutoring for an adult literacy program as well as her desire to start a company to help the developmentally disabled.
Overall, Myjak is an exemplary student who possesses a genuine love for learning. She sets high goals and achieves them through hard work, perseverance, intelligence, and efficient time management. She is, and will continue to be, a model of the lifelong learner that UW-Parkside hopes all its students will become.
Congratulations, Jessica!
---
Outstanding Graduates – alphabetical order 
 
Kailyn Daum - Environmental Studies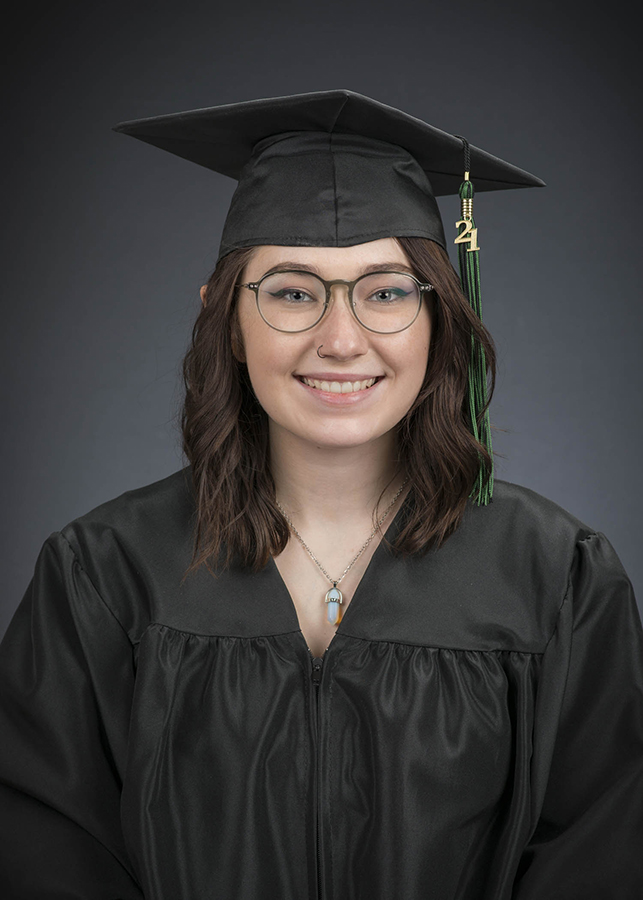 Kailyn Daum is an environmentalist and lover of nature. Daum has been involved in community-based project monitoring erosion control methods for Kenosha County Parks in Petrifying Springs. While the originally planned project was completely disrupted by the pandemic, Daum and her group managed to continue analysis on their own and created a detailed analysis of how the river restoration within the park was working. Daum has cited her educational background as particularly helpful for her current job. Even her work with Root-Pike WIN is keeping her connected to Parkside, as she's an integral part of the prairie and woodland restoration occurring on the cross-country course.
On campus, Daum has been involved in the Parkside Environmental Club (PEC), moving from a new student member to the President. She established bee keeping and hoop houses in the community garden on campus. Daum has also been integral in social events the club has held, from camping to invasive species removal days. For her efforts in PEC, the club received multiple awards from the university, and Daum herself received the Distinguished Leader award. Outside of the classroom, Daum has worked with the city of Racine in a variety of positions, including a competitive internship in Racine's urban forestry department.
Congratulations, Kailyn!
---
Karolina Dryndak - Communication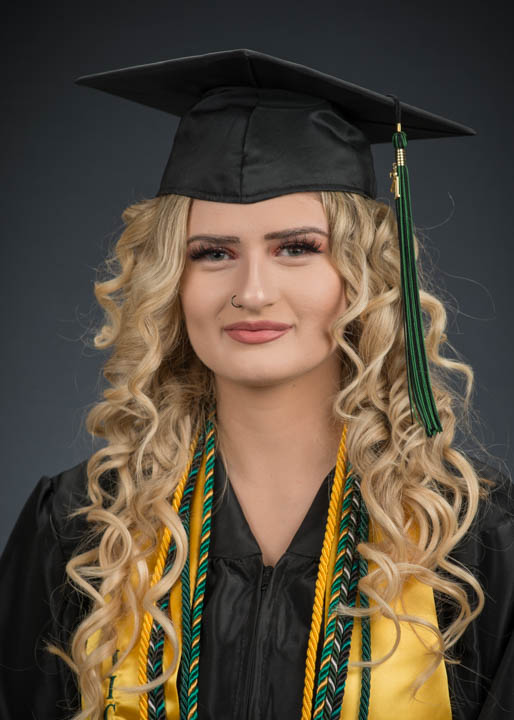 Karolina Dryndak is a first-generation college student and Communication major who is minoring in Organizational Communication and Public Relations. She knows the value of dedication and hard work, which is rooted in her early immigrant experience as she accompanied her mother to the United States from Ukraine, at the age of five. Dryndak was born with Limb Length Discrepancy (LLD), a condition that causes one leg to be shorter than the other, making it difficult to walk and damaging the structure of the body in general.
Every semester that Dryndak has been enrolled at UW-Parkside, she has earned Dean's and Provost's List honors. Additionally, she serves as an intern for the Professional and Continuing Education division. Dryndak is the Vice-President of the Parkside Student Government where she dedicates her time and effort to serve her fellow students. Through her involvement in student government, she has also worked to connect UWP with external groups such as the Andrew Goodman Foundation that promotes the involvement of young voters and the Feed My Starving Children nonprofit organization.
Dryndak attended all of the Rebuilding Kenosha conversations and took an important leadership role in helping to develop an action plan for advancing Equity, Diversity, and Inclusion (EDI) initiatives at UW-Parkside.
Congratulations, Karolina!
---
Sundus Ewis - Sport Management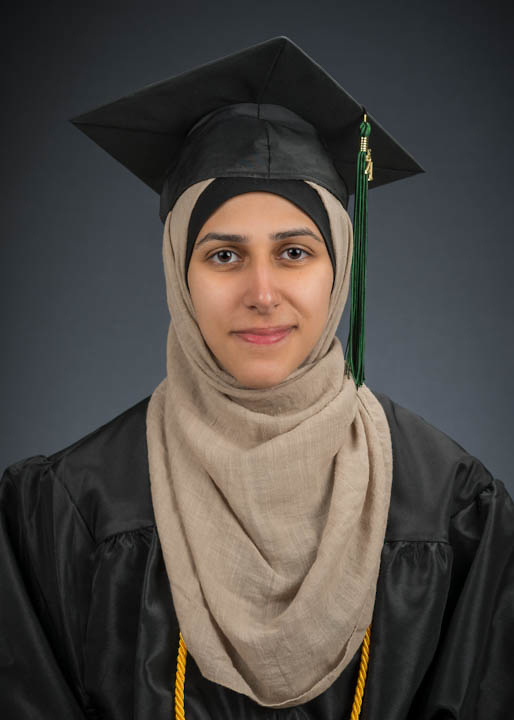 Sundus Ewis is a sport management major and maintained a stellar GPA, which earned her a place on the Provost's List for each of her semesters at UW-Parkside. Ewis transferred to UW-Parkside after two years at Milwaukee Area Technical College where she was on their President's Honor Roll List for all of her semesters. Ewis has been a great leader in the classroom and throughout the community. She has also shown great leadership through her work at the Salam School where she was an elementary school basketball coach for two seasons. She saw a need within the school's basketball program for elementary girls to be exposed to basketball and learn basic skills.
Ewis has completed three internships during her career at Parkside. At the Milwaukee Wave, she improved the experiences of fans. For the Milwaukee Milkmen, Ewis assisted with promotions, game-day set-up, and ticket taking. With Rock Tournaments, she is currently assisting with sales and marketing. In addition to her academic work, internships, and her time with the Salam School, Ewis has also been a part of the Muslim Student Association during her time at Parkside, worked as a teller at Landmark Credit Union, and been a sales associate at Kohl's.
Congratulations, Sundus!
---
Olivia Greener - Sport Management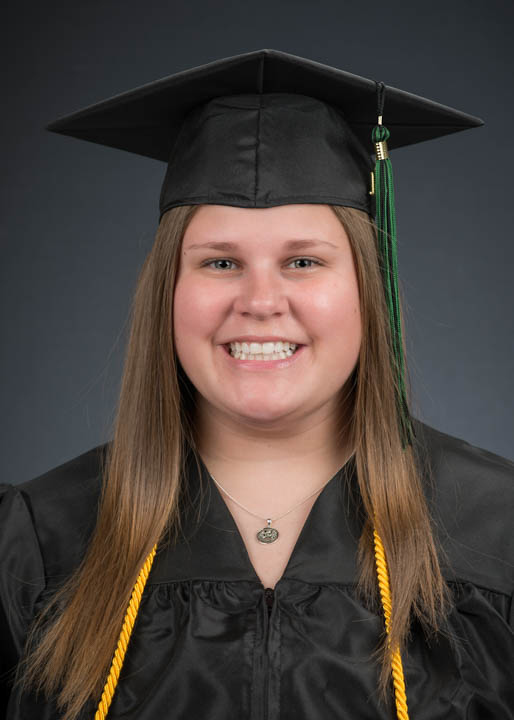 Olivia Greener earned her degree in Sport Management with a minor in Coaching as well as a Community Engagement certificate. Greener has been on the Dean's List for every semester and the Provost's List a majority of those semesters. She serves as the JV Softball Coach at Wauwatosa West High School. Greener also worked with the Wauwatosa Recreation Department as a summer counselor working with 4K through 6th grade children. She also completed an internship at the Boys & Girls Club of Kenosha which included administering the "Sporties for Shorties" program which helps kids ages three to six improve their motor skills and working on baseball and softball clinics.
Greener has also served as the Treasurer for the Sport Management Club. Additionally, she also completed a marketing and operations internship with the Milwaukee Milkmen professional baseball team. Greener worked both as an Academic Success Coordinator and Resident Advisor and served as a mentor to new RAs. Greener volunteered as a Patient Companion at Allay Home & Hospice helping terminally ill patients and their families. Greener also volunteered at the Shalom Center as a Food Pantry Volunteer as well as the Racine Kenosha Community Action Agency for their Baby Expo.
Congratulations, Olivia!
---
Gretchen Leighliter - Management Information Systems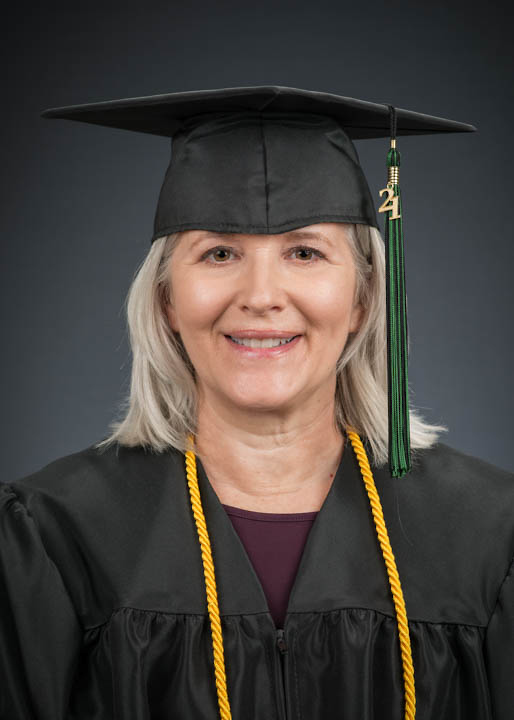 After working for 20 years in industry, being married for over 30 years, and raising a son, Gretchen Leighliter made the decision to return to school and complete her bachelor's degree in a technically demanding Management of Information Systems program. Leighliter has balanced her studies while being the mother to a 16-year-old boy who is a sophomore in high school. Her ability to successfully parent while maintaining exceptional grades during a global pandemic speaks volumes about Leighliter's talents.
In addition to her role as a mother, Leighliter also serves as the Vice-President of The Board of Education for Illinois School District #33. Her accomplishments on the Board include hiring a new superintendent for the district and providing guidance on a range of educational issues including challenges faced as a result of the pandemic. The pandemic has created incredibly challenging times for K-12 public systems and for K-12 students in particular.
Leighliter also volunteers for the Antioch Traveling Closet. ATC's mission is to make sure that no child, adult, or senior citizen is without basic items that we sometimes take for granted. She has participated in clothing drives, food drives, and helped setting up donated goods distribution events within the community.
Congratulations, Gretchen!
---
Mya Peterson - Chemistry
Mya Peterson is an exceptionally bright young chemist and has participated in high level research while enrolled at UW-Parkside. She was part of a team of students who won the campus-wide 2019 'Big Idea' award. She has maintained an impressive GPA. While these accomplishments are notable, Peterson also works considerable hours outside of school helping with a family business. In her last semester, she finished the senior seminar requirement while working 40 hours per week and commuting to her new position at AbbVie.
Peterson's success extends beyond the classroom as well. She has performed numerous service activities for the university including serving on Search and Screen Committees, being a Supplemental Instructor for Chemistry, serving on the College of Natural Health Sciences Student Advisory Council, and Volunteering for the Girls Empowering Math and Science program. Peterson has worked throughout her college studies as a Policy Manager at a Title Company and as a Homecare Giver where she assisted the disabled so that they could partake in a comfortable environment and achieve daily tasks. She has demonstrated a stellar record of academic success, has an incredible personality, is enthusiastic, has a strong desire to learn, contributes in every aspect, and is motivated to succeed.
Congratulations, Mya!
---
Kevin Phair - Liberal Studies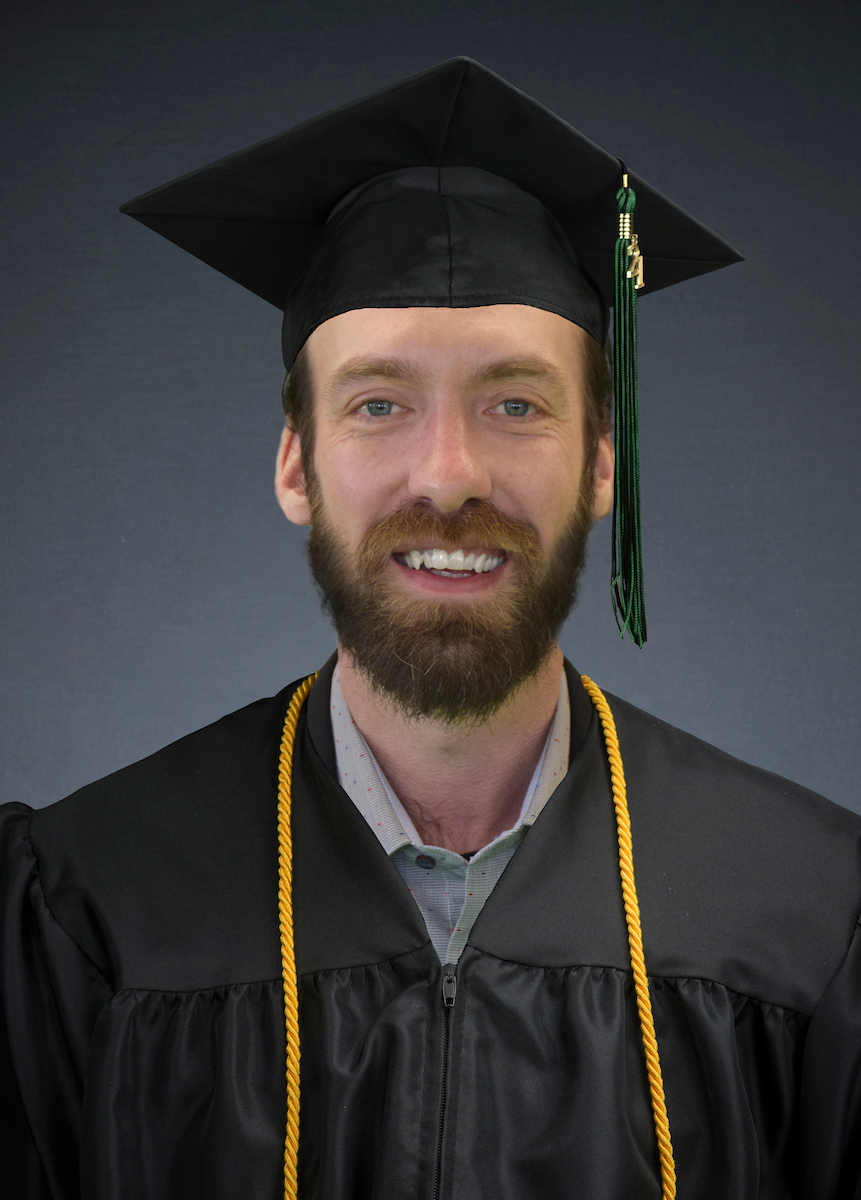 Kevin Phair is a Liberal Studies major, a transfer student and is currently completing his degree while living in Bulgaria. Going to college was a personal promise he made to himself when he decided he wanted to be a licensed substance abuse counselor, a decision he made when he was a client at an alcohol and substance abuse inpatient treatment center in 2015. Phair's new chapter started at Fox Valley Technical College (FVTC) where he earned an AAS in Substance Use Disorder Counseling. He knew firsthand the impact Alcohol and Other Drug Abuse (AODA) counselors make in their client's lives and wanted to be one.
During his final semester at FVTC, Phair secured one of the AODA counseling internships in the area at Mooring House, a treatment facility for adult males struggling with addiction. After only two months he was hired to be a certified substance abuse counselor. The school has reached out to Phair to be a "stand by" counselor for the students and has also been asked to provide insight and advice to the teachers on how to support the students. Phair has also given his time to coaching middle school soccer and high school basketball and has served as a substitute teacher in various subjects.
Congratulations, Kevin!
---
Cassidy Prucha - Marketing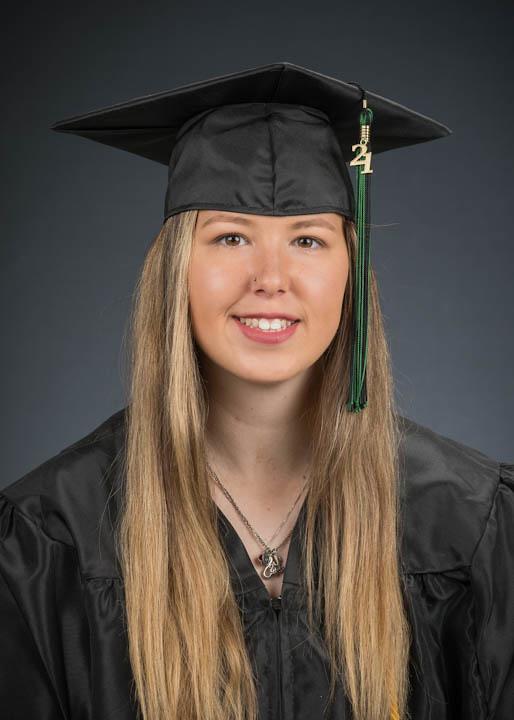 Cassidy Prucha earned her degree in Marketing with a minor in Global Management. She was consistently on the Dean's and Provost's Lists. Prucha earned the UWP 2019-2020 Academic Achievement Award as well as the Division 2 Athletics Directors Association 2019-2020 Academic Achievement Award. Upon graduating from high school, Prucha received a scholarship from the Omaha Education Association and a two-year softball scholarship from Hutchinson Community College (HCC).
Prucha earned her Associate of Arts from HCC in May of 2019. While at HCC, Prucha was on the President's Honor Roll all four semesters. She was also an active member of the Phi Theta Kappa Honor Society. She spent most of her outside classroom time with the HCC Blue Dragon softball team. Prucha also mentored and coached young girls from the surrounding community when HCC hosted softball clinics. In addition, she donated time at a local food pantry and is a certified USA Softball umpire.
In 2020, Prucha won the Set Sail portion of the International Collegiate Sales Competition. She competed against 140 other competitors and took first place. She also worked as a front-line associate for JC Penney's to gain experience in the sales industry before beginning her career in marketing.
Congratulations, Cassidy!