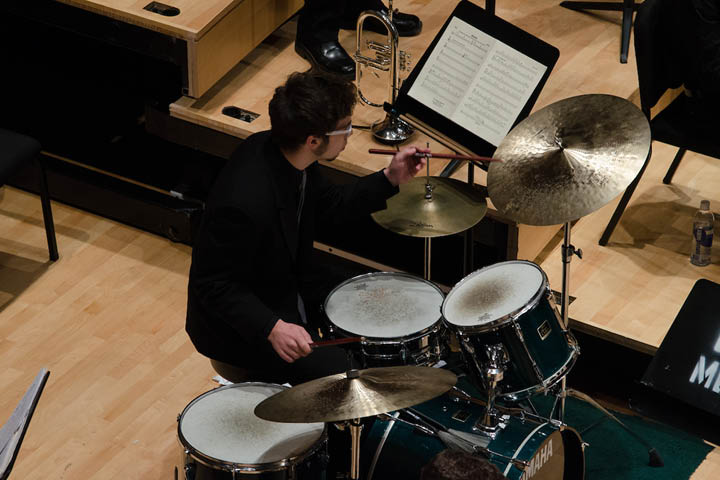 Percussion Ensemble
David Bayles - Director
The purpose of the percussion ensemble is to cultivate chamber music skills and apply appropriate percussion techniques to various music styles. The ensemble explores 20th/21st century historically relevant and contemporary percussion literature, Afro-Caribbean styles, jazz, classical, and mixed- and multi-media compositions.
Past repertoire includes works by John Cage, Lou Harrison, Jovan Nebojsa Zivkovic Leonard Salzedo, Christopher Rouse, UW-Parkside faculty members Keith Carpenter and James Crowley, Harry Breuer, Batacumbele, Los Van Van, Cal Tjader, Steve Reich, Leander Kaiser, and David Hollinden.
The UW–Parkside percussion ensemble performs one on-campus concert and several off-campus events each semester.
For information on the Percussion Ensemble, contact David Bayles , director of the UW-Parkside Percussion Ensemble.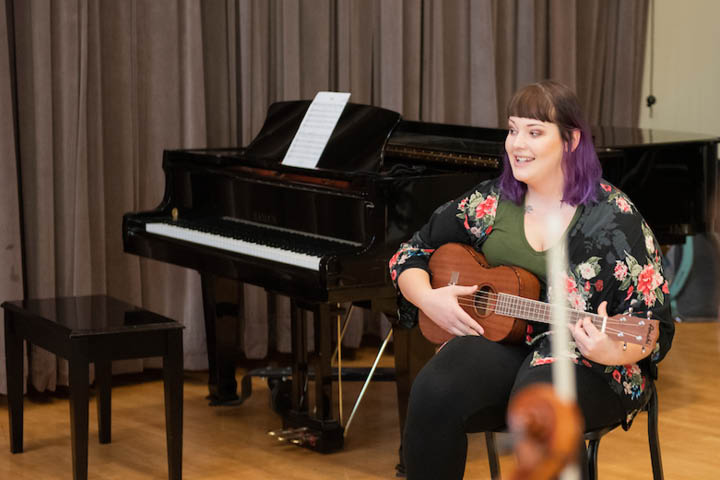 Guitar Ensemble
The Classical Guitar Ensemble is made up primarily of  the classical guitar majors and minors at UW-Parkside. Each semester students work on a selection of  pieces written or arranged for the classical guitar from a variety of style periods. These may be duets, trios, quartets or larger ensembles of guitars, depending on enrollment. The students are assigned parts that are at their level and sometimes there are more than one person on a part, such as in an orchestra. At the end of the semester, the Guitar Ensemble presents at least one recital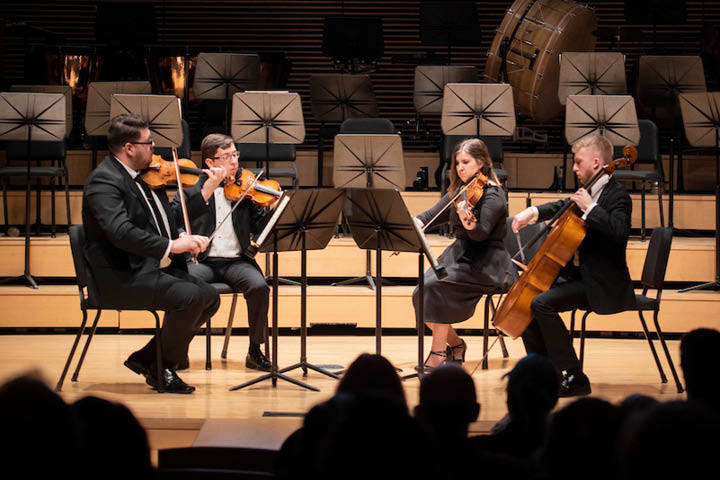 String Ensemble - La Camerata
Alvaro Garcia - Director
The Parkside Camerata was formed during the spring 2008 in an effort to give our premier string students an opportunity to perform the great string works of the Baroque and Pre-Classical periods. This upper level ensemble is open to all UW-Parkside students who play a violin, viola, bass and harpsichord. Enrollment in this course (MUSP365) requires an audition.
It was thanks to the personal support of Dean Donald Cress that the Music Department was able to purchase a library of great Baroque and Pre- Classical compositions for our students to perform and experience. It is to him we own our very name "Parkside Camerata" and existence. We extend our most sincere gratitude to Dr. Cress for his enormous support.
For information on the String Ensemble, contact Alvaro Garcia, director of "la Camerata".
Learn more about Music at Parkside.