Parkside Access to College Credit
Earn College Credits in High School
The Parkside Access to College Credit Program (PACC), is a concurrent enrollment program at the University of Wisconsin Parkside. PACC allows eligible high school students to earn college and high school credit by taking designated courses at their high school.  
PACC courses are real college courses that you will earn college credit for and will appear on a UW-Parkside transcript.  PACC courses are the same courses as those available at the UW-Parkside campus. Your high school teacher and a  UW-Parkside faculty member work together to develop these college-level courses within your high school.
STUDENTS
WELCOME TO PACC
Right now, your life is full of transitions; we are trying to make some of these transitions a bit easier.  One way we can do this is to help you gain college credit while you are fulfilling your high school graduation requirements.  This is an alternative to AP/IB testing or coming to college campuses for courses through the Youth Options Program.  You can get college credit for some classes that are available at your own high school, taught by your high school teachers, and without that crushing worry about passing your AP exam!  We hope that through this experience you will gain confidence in your ability to succeed at the college level, and invite you to consider Parkside as a place where you will be welcomed, appreciated, and encouraged to be amazing!
 
PARENTS
 
We are pleased that you and your student are considering or taking PACC courses. PACC is an affordable way for students to earn high school and college credits, taught by their high school instructors, while still in their comfortable high school environment. 

Students who are interested in taking PACC courses should meet with their school counselor to see what courses are offered in their high school.  If PACC courses are not available, there are other options for high school students to earn college credit. Please explore college credit in high school opportunities here.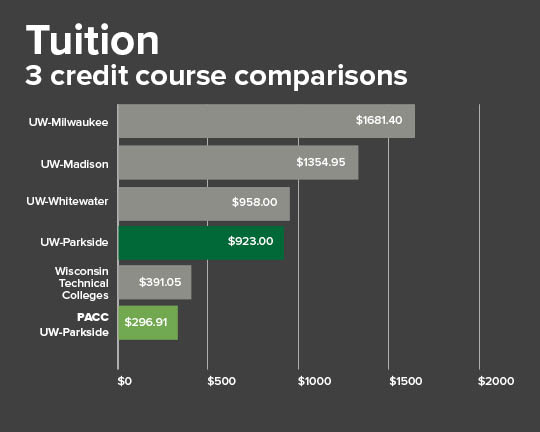 PACC currently offer courses in Racine Unified School District and in Kenosha Unified School District.
 
 KUSD

RUSD                                     

Indian Trail Academy & High School
Lakeview Technology Academy

Case High School
Park High School
Walden III High School