Parkside Access to College Credit
Earn College Credits in High School
The Parkside Access to College Credit Program (PACC), is a concurrent enrollment program at the University of Wisconsin Parkside. PACC allows eligible high school students to earn college and high school credit by taking designated courses at their high school.  
PACC courses are real college courses that you will earn college credit for and will appear on a UW-Parkside transcript.  PACC courses are the same courses as those available at the UW-Parkside campus. Your high school teacher and a  UW-Parkside faculty member work together to develop these college-level courses within your high school.
STUDENTS
WELCOME TO PACC
Right now, your life is full of transitions; we are trying to make some of these transitions a bit easier.  One way we can do this is to help you gain college credit while you are fulfilling your high school graduation requirements.  This is an alternative to AP/IB testing or coming to college campuses for courses through the Youth Options Program.  You can get college credit for some classes that are available at your own high school, taught by your high school teachers, and without that crushing worry about passing your AP exam!  We hope that through this experience you will gain confidence in your ability to succeed at the college level, and invite you to consider Parkside as a place where you will be welcomed, appreciated, and encouraged to be amazing!
 
BENFITS TO YOU
Earn college credit(s) prior to your first year at Parkside
Experience more flexibility to explore multiple content areas in college
Research shows students are more likely to remain in college if they have taken concurrent enrollment courses
Have the opportunity to double major and/or graduate in four years
The course load can be more flexible if you enter college with completed credits
Unlike AP and IB courses, you do not need to take an examination for college credit, you simply need to successfully complete the course and you will be awarded college and high school credit.
Applying for PACC
Login or Register at apply.wisconsin.edu
Go to Create a new application
Select UW-Parkside and follow the application forms
All applicants must complete the online application, complete the PACC program form, and submit official high school transcripts. Applications will not be reviewed and a decision will not be made until all items are turned in.
For the official guide and detailed steps on how to apply online for PACC visit here.
Enrolling in PACC Courses
WHERE DO I START?
Enroll in the PACC course through your SOLAR account by adding the course to your schedule.
HOW DO I KNOW WHICH COURSE TO ADD?
To find the course that you are enrolling in please go to the Course Schedule on the UWP website and select the Advanced Search tab.
Select the correct term that you will be taking the course.
Pick the subject of your course (i.e. POLS, CHEM, MATH, HIST)
Scroll down until you see the course you are taking. (Hint: the course description will say for PACC students only and on the far right of the table your high school will be listed.)
Write down the course number (i.e. MATH 203) and the 4 digit ID number below the course number (these are the 2 numbers you will need in order to enroll in the right class).
HOW DO I ADD A CLASS IN SOLAR?
Go to SOLAR > Enrollment > Add Classes or click here.
Select the term, then Search and Find the PACC course you will be taking.
Click Select Class.
Finish Enrolling.
Enrollment in PACC courses must be completed with a permission number. A permission number can only be used once. Follow the steps to adding a class above, after selecting the class you will see a box at the top of the screen under Class Preferences where you can enter your Permission Number. Your permission number will be emailed to your UW-Parkside Ranger Mail account – you must check this email to get your permission number.
PACC Scholarships
SCHOLARSHIPS

When applicable, complete the online PACC scholarship application.  You can exit and return to your application at any time.  Be sure to complete your application prior to the January 10, 2020 deadline.
PARENTS
 
We are pleased that you and your student are considering or taking PACC courses. PACC is an affordable way for students to earn high school and college credits, taught by their high school instructors, while still in their comfortable high school environment. 

Students who are interested in taking PACC courses should meet with their school counselor to see what courses are offered in their high school.  If PACC courses are not available there are other options for high school students to earn college credit. Please explore college credit in high school opportunities here.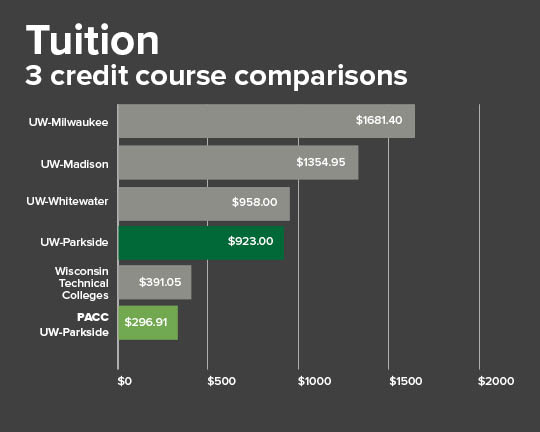 PACC Program High Schools
We currently offer courses in Racine Unified School District and in Kenosha Unified School District.
KUSD
Indian Trail Academy
Lakeview Technology Academy
RUSD
 
Case High School
Park High School
Walden III
New Course Developments
We are working with other high schools in Kenosha and Racine County and hope to have more courses available for the 2019-2020 school year.