WHY NOT PACC??
This is a course taken in your high school. It is a college course, that has been created for your high school, that allows you to earn both high school and college credits. Signing up for a high school course that offers the PACC course option, gives you the opportunity to decide if you want to earn college credit. The course content, homework, and tests are no different if you choose to enroll in the PACC option. The only difference is you will earn college credit since you enrolled in the PACC course - those who didn't will not. 
EARN COLLEGE CREDITS WITH PURPOSE
Earn college credits prior to your first year in college. These are real college courses taken at your high school, taught by your qualified high school teachers, during the regular school day. The PACC program provides advanced learning opportunities and prepares you for college while still in high school. 
What you can do with your College Credits
Depending on your school you can earn 3 – 30 college credits. PACC advises all students to only take courses that serve a purpose beyond accumulating credits. The PACC program offers you courses that are going to benefit you and your intended major, and makes sure you are as prepared as you can be going into college. 
 3-7 College Credits

PACC gives you an idea of what college coursework will be like before you are a full-time college student.

Taking a college-level class will help you demonstrate the ability to handle more difficult coursework.

The transition from high school to college may be easier for you.

If you didn't think college was for you, taking a PACC course while still in high school may build your confidence and encourage you to reconsider.

You generally can take fewer classes in college to earn your degree.

You completed a general education course.

If you took a Math or English course you may have completed the universities quantitative reasoning and/or English, composition, or communication requirement which are often the hardest to schedule as an incoming freshman with no credits.

8-10 College Credits

In addition to all of the above, you have earned more the half of the recommended credits for a semester of college.

You have the opportunity to jump into courses for your major.

Explore a content area you are interested in.

Plan a double major, add a minor or certificate.

11-15 College Credits

In addition to the above, you have earned up to a whole semester of college credits.

You may be able to finish your degree in less than 4 years years.

You may have a full semester available to participate in a study abroad program.

You have more time to get involved in programs on campus, take an internship, or hold a job.

You are more likely to graduate on time. Students who complete 30 credits in their first year are eight times more likely to graduate in four years. Your first year may only require 15 credits to meet this statistic (We don't recommend taking less than 15 credits each semester you are enrolled in college, unless you are enrolling part-time).

16-30

College Credits

You have all of the benefits above.

Depending on how many credits you have earned and your chosen major, you may be able to graduate in 3 years.

Depending on how many credits you have earned and if you have chosen a science major or pre-health major you may graduate in 4 years.
GET A HEAD START ON COLLEGE
By earning credits early, you have more flexibility in scheduling when you get to college, giving you more chances to explore multiple content areas. This can also provide you more opportunity to double major, add minors or certificates, and accelerate your time-to-degree.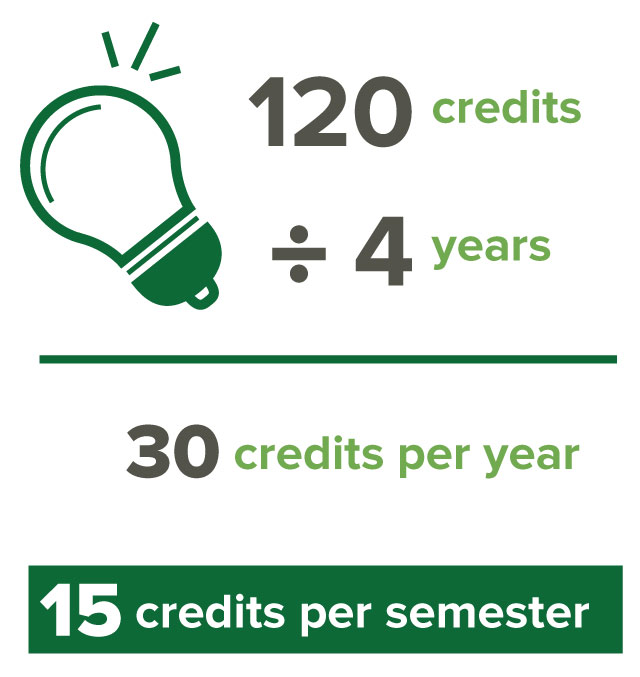 Earning college credits before you begin your freshman year at the college or university of your choice will help to accelerate your time to degree completion. Most public universities require students to complete a minimum of 120 credits for graduation. To graduate in four years, you should complete 30 credits each year, which means that you should complete 15 credits each semester. UW-Parkside and many other universities have created 15 to Finish campaigns to help students achieve their degree in four years.
PACC COURSES ARE TRANSFERABLE
PACC offers college courses that are transferable to most colleges and universities and count toward degree programs. See how our courses transfer to other schools around Wisconsin.
You will have a UWP Transcript
You will have a UW-Parkside transcript upon completion of your PACC courses. When you complete a PACC course your high school faculty will enter your grade in SOLAR. Once all grades have been posted you should order your UW-Parkside transcript to be sent to the college or university that you are going to attend. The receiving institution will evaluate the course and determine what credit/course to approve. You should keep your PACC course syllabus as some admission offices ask for them when evaluating a course. If for some reason you no longer have your syllabus and need a copy please email pacc@uwp.edu.
Save future tuition costs
PACC offers very low tuition costs. Tuition for PACC courses is less than 1/3 of the regular college per-credit tuition rate. That's a huge savings for you and your family. Scholarships are also available! The PACC Program is committed to offering college credit courses to all students.
Scholarships
We know that while the tuition charged in the PACC program provides savings for students on future college costs, not all students can afford to pay $98.97 per credit, that is why we have a dedicated PACC Scholarship Fund.
IN 2019-2020 PACC AWARDED 96 SCHOLARSHIPS TOTALING $10,830

The PACC Scholarship is a competitive scholarship and there are limited funds available each semester. The criteria for scholarships are weighted heavily on student's financial need followed by other factors.
Scholarship Criteria
Financial Need (45%)
Community Service, Employment, School Activities and Awards (20%)
First Generation College Student Status (15%)
A Personal Statement (10%)
Academic Performance (10%)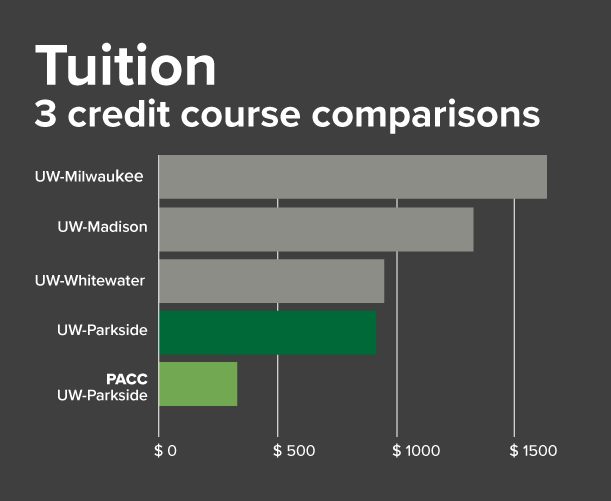 EFFECTIVE FALL 2022 - SPRING 2025
The PACC program has been approved to offer UWP courses in Kenosha and Racine county high schools at no cost to students. All students enrolling in PACC courses during this time will NOT be charged tuition.
Enhance your college application
Participating in PACC demonstrates your ability to handle more difficult coursework which is something college admissions officers may look upon favorably during admissions and recruiting. 
Complete PACC, earn college credits
Unlike AP and IB courses, you do not need to take an examination for college credit, you simply need to successfully complete the PACC course and you will have earned college and high school credit. The PACC courses are the exact same courses as the ones offered at UW-Parkside, and you will be required to complete any homework, quizzes, papers, presentations, and tests to complete the courses.
PACC courses vs AP/IB courses
 

PACC

AP/IB

Type of Course
Real college courses that earn you a UW-Parkside transcript.
Advanced high school-level course.
Grading
Earn your grade over the span of the course through homework, quizzes, papers, presentations, and tests.
Earn your grade over the span of the course through homework, quizzes, papers, presentations, and tests.
College Credit
Earn college credit upon successful completion of the course.
Must take one high-stakes AP test, given on a specific day, at a specific time that may or may not (depending on your score and institution) earn college credit upon admission.
College Credit Performance 2019-2020
98% of PACC students earned college credit.

AP exams are scored from 1 to 5, with 3 and higher considered passing rates.
Students who scored a 3 or higher on the AP tests:
KUSD – 62.8%
RUSD – 26.9%
Statewide – 66.3%
National – 59.6%