Housing and Residence Life partners with local companies to provide housing arrangements for interns each summer. Accommodations during the academic year may be offered as space is available. With easy access to both Kenosha and Racine, even Milwaukee and Chicago, our University Apartments are an affordable and convenient option for those seeking housing accommodations while completing an internship or cooperative experience in the area.
INTERN SPACES ARE FULL FOR SUMMER 2021.
Thank you for inquiring. Please check back with us late July for potential Fall opportunities.
Interns reside in our University Apartments. The University Apartments are 4-bedroom, 2-bathroom units shared by up to 6 people. Each apartment has a living room and kitchen. Bedrooms are furnished with twin extra-long beds, desks, and dressers. The kitchen offers a full-size refrigerator and stove with a table and four chairs. Living rooms are furnished with a couch, chair, and end table. Linens, dishware, and cooking items are not provided. All utilities are included, and each space is equipped with wall-unit air conditioning, cable, and wireless internet. 
Interns are assigned to one bed within a like-gendered apartment. The number of private bedrooms are limited. Private room requests will be honored as space allows. While we aim to assign interns from the same company together, interns may live with those working for other companies. Housing & Residence Life reserves the right to assign roommates and change assignments as needed. Assignments are made on a first-come, first-served basis.
Within the University Apartments community, residents have access to a laundry room with vending area and fitness equipment. A community space with a television and a microwave is available for residents to use. A computer lab is also accessible through the community room. Outside, the University Apartments community has a sand volleyball court and plenty of green space for recreation. Residents can take a short walk to the Student Center where they can find an outdoor patio and basketball court, campus dining options, bookstore, Educators Credit Union, and an ATM. Parking is provided adjacent to University Housing.
INTERN HOUSING RATES*
Private Bedroom  |  $140 per week
Shared Bedroom  |  $125 per week
Summer Parking Permit  |  $85
Academic Year Parking Permit  |  $245
*Rates are subject to change and are per week, Sunday-Saturday
---
Summer 2021 contracts are available for a minimum of 4 weeks between May 22, 2021-August 14, 2021. Companies who choose to pay for their interns' housing may do so via a group contract. Individual interns may contract with us directly. If you require dates outside of this time frame, please contact us directly to inquire about availability. A limited number of spaces are available during the academic year.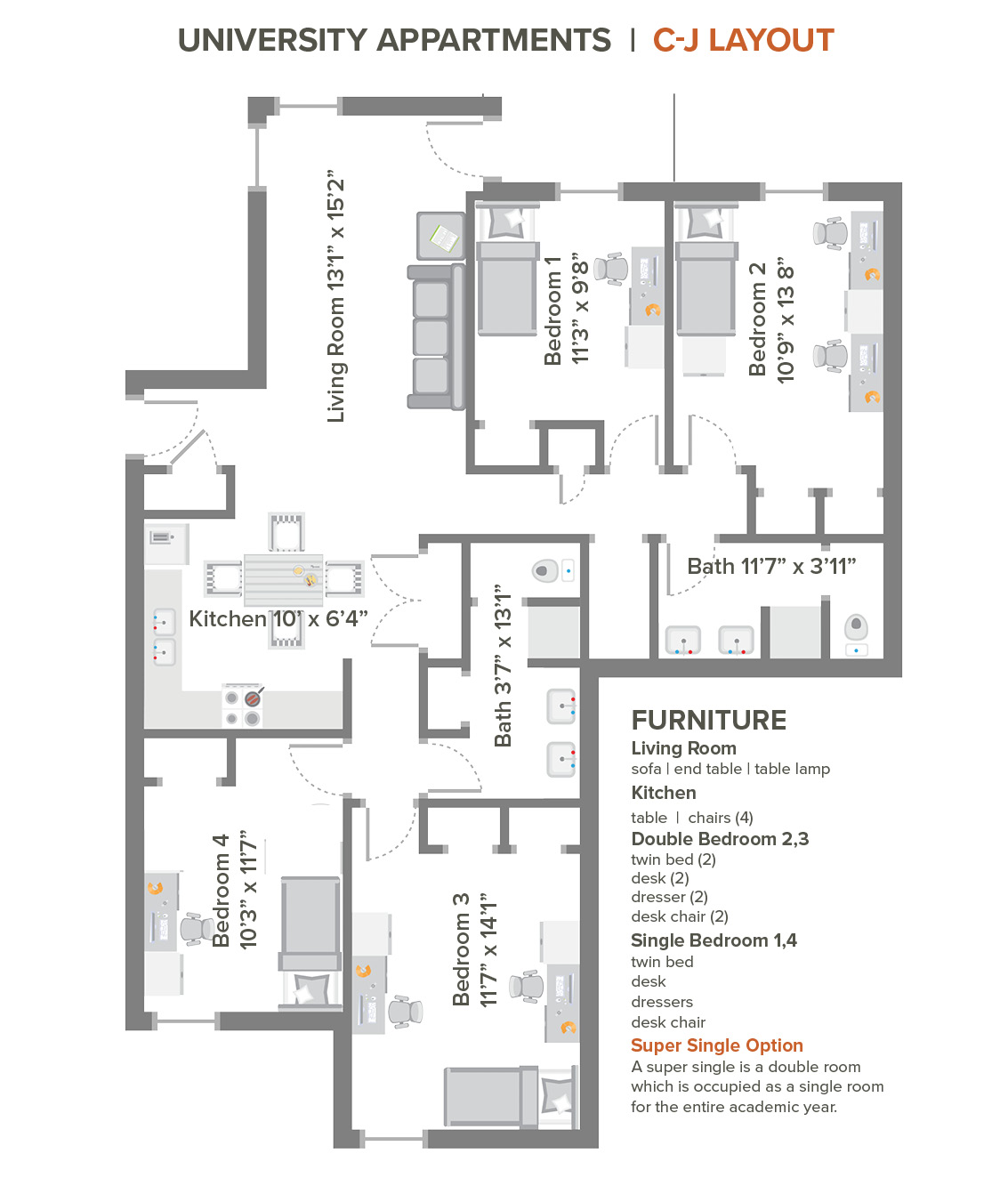 REGISTRATION REQUEST
 
INTERN SPACES ARE FULL FOR SUMMER 2021.
Thank you for inquiring. Please check back with us late July for potential Fall opportunities.