Campus Employment as a High Impact Practice
The goals of the UW-Parkside high impact campus employment program are to integrate work experience with educational experience and promote interaction with faculty, staff, and peers who develop professional relationships.
Students will work on real problems in an authentic environment that generates real solutions, and supervisors will provide specific, timely, and constructive feedback. This process starts with the development of a NACE-competency aligned job description. NACE (National Association of Colleges and Employers) has produced eight essential competencies that college students should possess upon entering the work force. High impact job descriptions connect the job duties to these competencies so students have a clear understanding of the expectations of the position upon applying, as well as a better sense of how they will develop in their role and be assessed on their progress throughout the experience. Supervisors will work with student employees to set goals based on these NACE competencies, engage them in reflective practices, and provide a performance evaluation at the conclusion of the experience.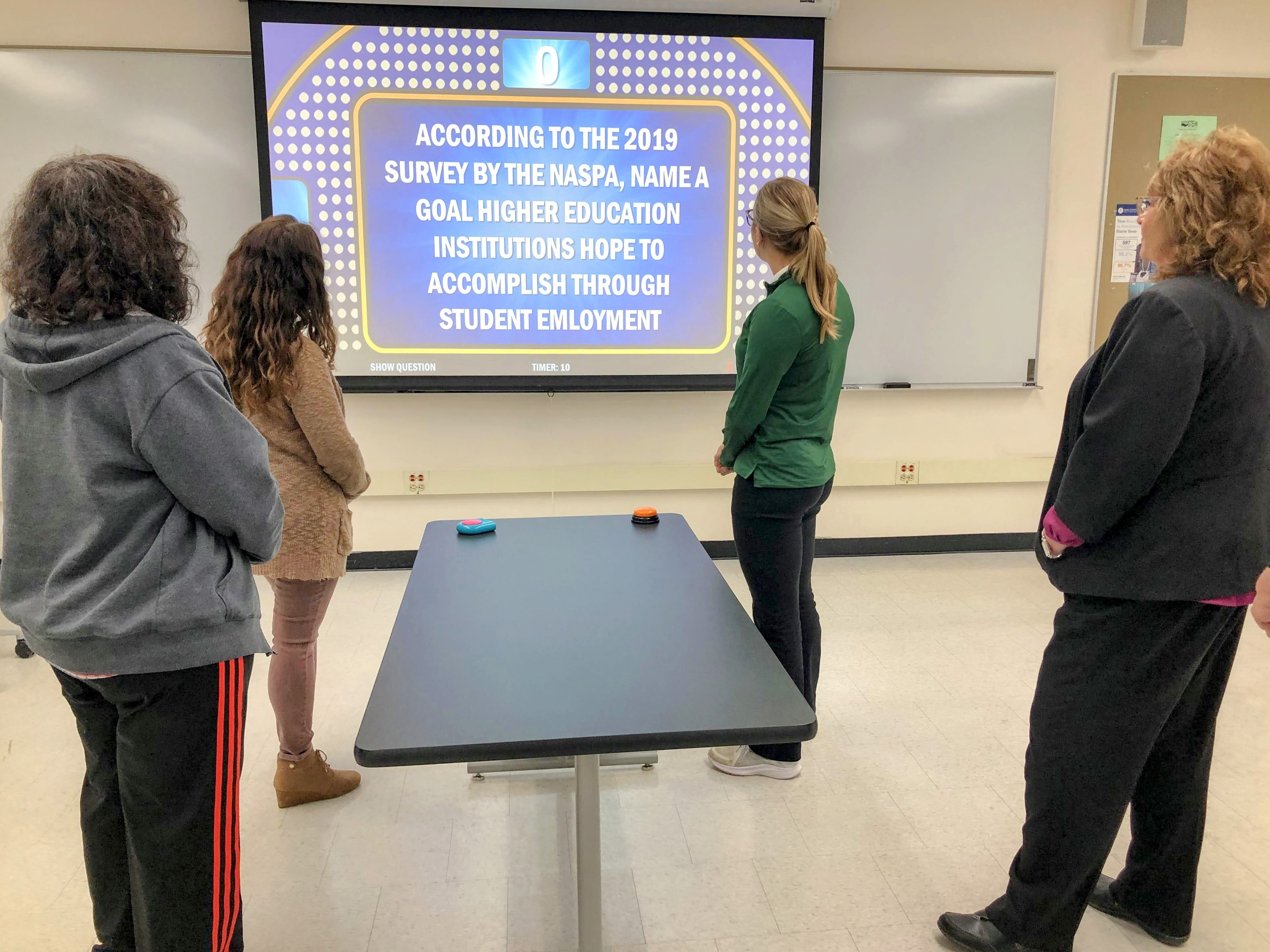 Supervisors are encouraged to participate in the campus employment as a high impact practice workshop. Sections of the workshop are devoted to aligning a job description to the NACE competencies, guiding student reflection, evaluating employee performance, and addressing EDI issues. Participants leave not just with a greater sense of why student employment as a high impact practice is important and meaningful, but how to implement it within their preexisting student employment roles. In addition to this comprehensive workshop, smaller trainings are offered periodically to focus on specific topics, such as training on reflection/evaluation tools and best practices in high impact work. One-on-one support is also available for all supervisors.
WHAT SUPERVISORS ARE SAYING
"I didn't realize there was an entire program dedicated to student employees and how engaged we need to be with them. It really made me think about being reflective and having the student be reflective."
"Discussing EDI practices was valuable because I work directly with a diverse group of student employees who engage with diverse populations of students in their roles."
"It was very helpful to hear others' opinions on how they evaluate and support our students."
"Now I feel I have the tools to really ensure that my student employment position is as impactful as it can be."
STUDENT EMPLOYEE PROFESSIONAL DEVELOPMENT
A key component of a high impact campus employment program is engaging student employees in professional development. Quality professional development goes beyond the day-to-day tasks and encourages students to think critically about their self-development, hone their soft skills, and prepare for their future career. Below are some resources available to supervisors to engage student employees in high quality professional development.
CONTACT INFORMATION
Kaila Bingen  |  262-595-2113  |  bingenk@uwp.edu