Contents
PARKSIDE MARKS
OTHER LOGOS
GUIDELINES
STANDARDS
ELEMENTS
ASSETS
REQUEST FORMS
RESOURCES
Stationery
Note:
Please do not order more than you will use in 2018. Changes are on the horizon.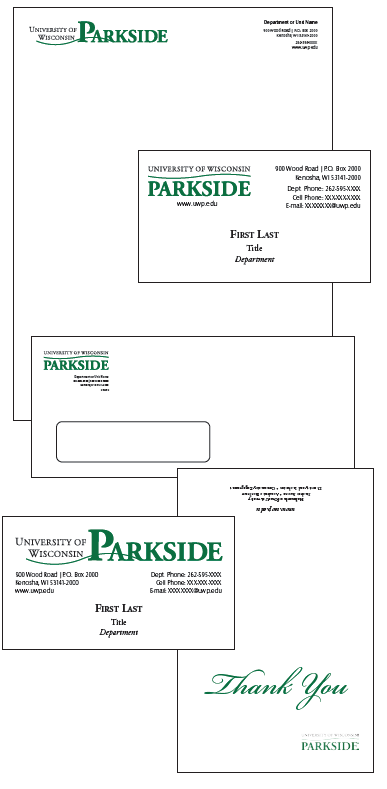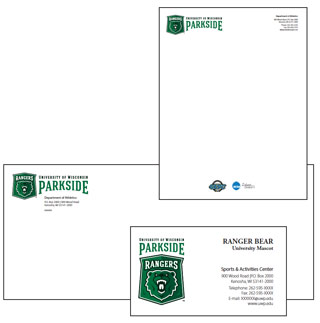 Stationery is an important part of the visual identity system. It is important that all departments follow the same standards to give the university a cohesive look. Current stationery is available online as e-docs, which can be filled-out and proofed by each department.
University Business Cards
UW-Parkside offers two styles of business cards for the campus. Departments may choose and order online the style they prefer.
Information that does not fit on the front of the card should be moved to the back.
The backs of business cards may be used for a number of purposes such as QR codes, accreditation logos, office hours, or write-in appointment information.
University Letterhead
Letterhead can be personalized with the department name and phone number. The information on the letterhead is limited to create a clean, attractive look. If there is additional information you want your audience to know, it should be contained in the body of your letter.
Letterhead can be personalized, proofed, and ordered online.
University Envelopes
Envelopes come in a variety of shapes and styles. Departments can customize envelopes to include their funding string, and indicia for bulk mailing, variable data, and an image related to a specific promotion. E-docs have been set up online for customizing the standard university envelope.
Envelopes must be purchased off the state paper contract if they are paid for with university funds. Please contact the University Print Manager if you need to purchase plain envelopes.
Envelope sizes:
#10 used for folded letters (window/non-window)
#9 used for business reply
A2 used for small note cards / reply cards
A7 used for invitations
9x12 used for promotional mailing mailed flat
10 x 13 used for mailing folders and larger info
Notecards
Parkside offers two styles of notecards -- a generic card and a Thank You card. Notecards are 5.5" x 4.25" and go with an A2 size envelope. Both cards have the university hallmarks and seal on the back and are blank inside.
Athletics Stationery and Business Cards
Permission to use any of the athletic logos and stationary for any purpose must be obtained from the Assistant Athletic Director for Sports Media Relations.